Scenery: 
Difficulty: 8 out of 10
Highlights: Panoramic views; long, steady climb
Distance: 8 miles, up-and-back
Approximate roundtrip time: 4.5 hours
Total ascent: About 1,000 ft
Max Elevation: 2,234 ft above sea level
This hike is for you if: You want to climb a proper mountain to earn some amazing views.
One more minor detail: If I was hoping to come across an eastern timber rattlesnake in its natural environment, this is the hike I would pick.  I haven't seen one here in my visits, but I am apparently in the minority.  They are very common in the Taconic Range, and at Mt. Alander in particular.  Step carefully out there!
Background you can feel free to skip: Initially, I'd shoehorned two distinct Alander Mountain hikes onto one page, but the result was a monster that raged out of control, consuming entire reams of printer paper.  Both hikes lead to the same destination, but approach from opposite sides of the mountain.  This page details the gentler, 8-mile up-and-back hike (which is gentler because the trailhead is 700 feet higher).  If you want to do the steep, 5.4-mile loop, check out the original Alander Mountain write-up.  The rest of the "Background you can feel free to skip" below is taken directly from that page.
There are several good ways to get to the top of Alander Mountain, but there aren't any easy ones.  Of the two ways I've tried, the first is the longest hike (8 miles) I've ever done with a baby on my back, and the other is the steepest (1,822 feet in ascent in 5.4 miles).  My son Evan approved of them both, and hopefully he'll still like this hike when he has to do some of the walking himself.
The summit of Alander Mountain is unique for this area in that there's no one place you can point to and say, "This is the best spot to take in the view."  The grass, rocks and low bushes along the trail at the summit allow you to stop wherever you'd like, grab a seat and create your own personal money spot.
For all the beauty you'll find here, you won't be bothered by crowds, unless perhaps you're competing for a spot in the cabin near the summit.  Actually, that's been empty both times I've been up here, so maybe crowds aren't an issue there, either.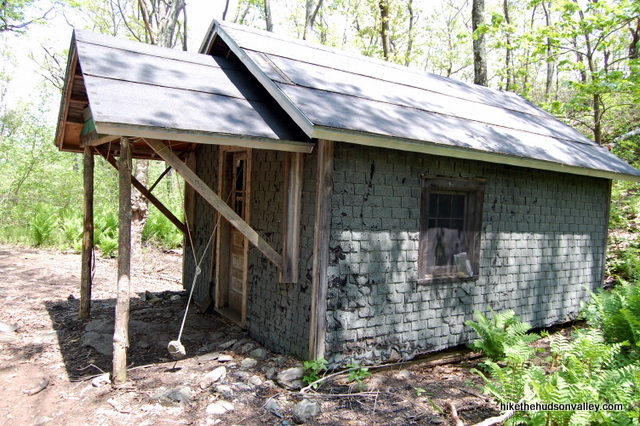 On the sunny spring day when I was here last, there were a few people lazing about near the summit, but not nearly as many as there should have been.  This is a gorgeous hike that should be high on your to-do list if you're willing to burn a few (thousand) calories to earn some awesome views.
**UPDATE February 24, 2014** The Massachusetts Dept of Conservation and Recreation has a very nice (revamped, I'm almost 100% sure) Mt. Washington State Forest homepage, complete with a contact number and with a very nice PDF trail map that charts this entire hike.  Thanks, MassParks!
---
Trail guide:
1.  From the parking area, head over to the kiosk and pick up a trail map.  You'll be following the blue-blazed Alander Mountain Trail all the way up.  Head past the kiosk, on the trail across the field, to begin your adventure.
2.  Just keep chugging along, crossing over streams (sometimes over some funky wooden bridges) and gently climbing.  You'll see the well-marked Charcoal Pit and Ashley Hill trails joining you from the left.  Just ignore them and keep on going.
3.  The trail rolls along, gradually becoming an uphill-only affair.
4.  After 3.5 miles, you'll come to a cabin on your left.  From what I can tell, this place is first-come, first-served, and free.  Since there's no camping allowed up here otherwise, the wooden bunks in this cabin look like the only option for sleeping on Alander Mountain.
5.  Exiting the cabin, look to your left and you'll see a sign directing you to the right for the Alander Mt. Trail, Alander Mt. Summit and South Taconic Trail.  Turn right at this sign to head towards the summit.
6.  In just a moment, you'll arrive at another junction with a sign sticking out of a rock cairn. (UPDATE September 2016: Per Sandy's helpful comment on my other Alander Mountain trail guide, the sign pictured here is in seriously sorry shape now, and likely won't be much help to you.  The directions below are still valid. so hopefully this won't slow you down too much!  Just visualize an awesome, helpful sign in that cairn and you'll be all set.  Thanks for the heads-up, Sandy!)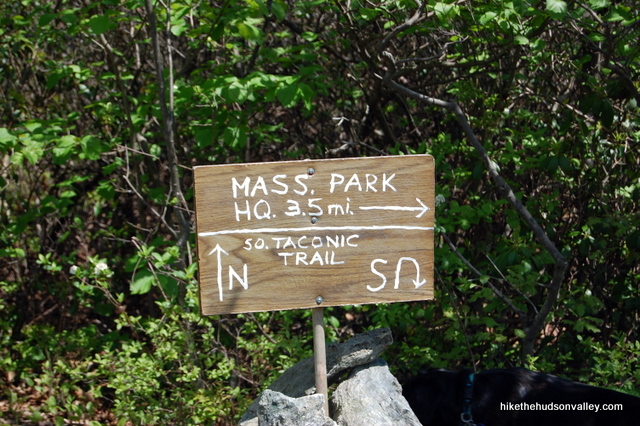 My buddy Ryan and I weren't sure which way to go here.  The map doesn't say, and neither does the sign.  I thought we should go right, he thought left, so we settled it like men: by playing rock, paper, scissors.  I won, so we went right first.  As it turned out, the biggest views are to the left.  Both are nice, but the left fork is definitely the proper final destination.  I'll leave the right fork as an optional step.
7.  Optional step: Turn right to head north on the South Taconic Trail and see some nice views.  This will add about 20 minutes of hiking to your day, and it will be up-and-back, returning you to this spot.  If you want to see them, turn right and head through the thick underbrush for a few hundred yards, stopping when you get to a small, rocky and grassy clearing.  The views here aren't earth-shattering, but they'd be a destination on any other mountain.  After you've taken them in, return to the junction with the sign sticking out of the rock cairn.  (The 8-mile estimate for this hike assumes you did this step — if you skipped it, the total distance for the day would be more like 7.5 miles.)
8.  From the sign at the rock cairn, head left (assuming you're coming from the cabin) to visit the huge views, heading south on the South Taconic Trail.
9.  Bam!  Check out those crazy views.
10.  Walk down the trail for a couple minutes, making sure you've seen the views.  There's no one place along this several-hundred-yard length of trail that is the "best" place to take in the view.  If you went nuts and kept climbing downhill, you'd plunge into the woods again, heading down the wrong side of the mountain.  Instead, when you see a spot that looks good for a picnic or break, plunk down right there and gaze into the distance for a while.
As a good rule of thumb, you wouldn't want to go more than a few minutes past the sign on your right that gives mileages to various points of interest.
11.  When you've soaked it all in, retrace your steps back to your car.  Go right at the rock cairn and left at the intersection near the cabin to rejoin the Alander Mountain Trail.  From there, it's just a 3.5-mile hop-and-a-skip back to your car, following the blue blazes the whole way.
---
Directions to the trailhead for the 8-mile, gentler loop beginning at Mt. Washington State Forest HQ: From Millerton, NY, head north on Route 22 for 12 miles.  Turn right onto NY 344 (Old Rt. 22), and follow signs to stay on 344, which turns into Falls Road as you enter Massachusetts.  Go straight past the parking areas for Bash Bish Falls.  Turn right onto West Street when Falls Road dead-ends into it.  Follow West Street for 2.1 miles, then turn right into the Mt. Washington State Forest HQ just after West Street merges with, and then becomes, East Street.  Follow the driveway behind the buildings to park in the large dirt/gravel lot beside the picnic tables.  The trail begins at the kiosk.
You can also get directions by checking out the Alander Mountain (Mt. Washington HQ trailhead) entry on the HiketheHudsonValley.com Google map.
Sorta nearby address for your GPS: The intersection of East Street and West Street in Mt. Washington, MA is just a few feet north of the Mt. Washington State Forest HQ, which is on East Street.  My old-ish Garmin Nuvi lets me put in an intersection as a destination, so hopefully yours does, too.
GPS coordinates of parking area: 42.08614, -73.46207 (Clicking will open in Google Maps or the Apple Maps app, depending on your browser/device.)
Related resources: If you're looking for actual facts and/or useful information, visit these resources:
More Alander Mountain pictures (covering both routes) from the hike's Picasa album (with a special thanks to my buddy Jeff Hofer for providing some of these photos):
Was this trail guide useful to you?  Please leave a comment!