Scenery: 
Difficulty: 9 out of 10 (steep climb up a big ol' mountain)
Highlights: Panoramic views, beautiful trails, the burning of many, many calories
Distance: 5.4 miles, loop
Approximate roundtrip time: 4.5 hours
Total ascent: 1,822 ft
Max elevation: 2,234 ft above sea level
This hike is for you if: You want to climb a proper mountain to earn some amazing views.
Super-cool Google Earth flyover of hike route:
Google Terrain Map of hike route:
One more minor detail: If I was hoping to come across an eastern timber rattlesnake in its natural environment, this is the hike I would pick.  I haven't seen one here in my visits, but I am apparently in the minority.  They are very common in the Taconic Range, and at Mt. Alander in particular.  Step carefully out there!
Background you can feel free to skip: There are several good ways to get to the top of Alander Mountain, but there aren't any easy ones.  Of the two ways I've tried, the first is the longest hike (8 miles) I've ever done with a baby on my back, and the other is the steepest (1,822 feet in ascent in 5.4 miles).  I'll write up the steeper, shorter version here, but if you'd like to try the longer, gentler climb (the trailhead for this one is 700 feet higher), check out the write-up for Alander Mountain II.  My son Evan approved of them both, and hopefully he'll still like this hike when he has to do some of the walking himself.
The summit of Alander Mountain is unique for this area in that there's no one place you can point to and say, "This is the best spot to take in the view."  The grass, rocks and low bushes along the trail at the summit allow you to stop wherever you'd like, grab a seat and create your own personal money spot.
For all the beauty you'll find here, you won't be bothered by crowds, unless perhaps you're competing for a spot in the cabin near the summit.  Actually, that's been empty both times I've been up here, so maybe crowds aren't an issue there, either.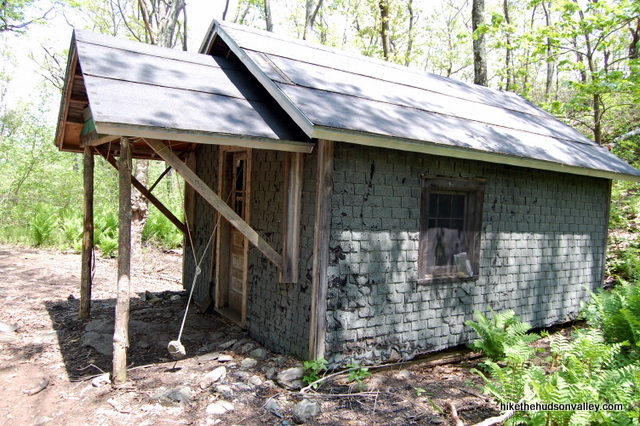 On the sunny spring day when I was here last, there were a few people lazing about near the summit, but not nearly as many as there should have been.  This is a gorgeous hike that should be high on your to-do list if you're willing to burn a few (thousand) calories to earn some awesome views.
**UPDATE February 24, 2014** The Massachusetts Dept of Conservation and Recreation has a very nice (revamped, I'm almost 100% sure) Mt. Washington State Forest homepage, complete with a contact number and with a very nice PDF trail map of the other Mt. Alander hike (the majority of the hike outlined below isn't shown on that map, but it's still a nice resource to have).  Thanks, MassParks!
---
1.  From the parking area, head downhill along the road for a couple hundred yards, back to the trailhead on your right.  Careful on the side of the road – if I'm not mistaken, that is one of the biggest fields of poison ivy I've ever seen (this is the only spot I noticed any poison ivy along the hike).
2.  From the trailhead, which is clearly marked with several signs on a tree facing the road, hop on the blue-blazed Alander Brook Trail.  Only 2.5 miles from here to the junction with Alander Mountain Trail at the summit?  Piece of cake!  Strenuous, strenuous cake.
3.  For the first mile or so, the trail is pretty flat.  Enjoy it while you can.  In just a couple of minutes, after taking in the nice view across the field to your left, you'll come to the junction with the Robert Brook Trail, which is marked by a tree that is eating the sign.
Turn left here to stay on the Alander Brook Trail.  This is the beginning of the loop – you'll come back down via the Robert Brook Trail later, when you're much more tired and sweaty.
4.  In 10-15 minutes, you'll cross over a culvert (which is what you call those big honking metal pipes, according to the Internet) that directs Alander Brook under the trail.  Directly after this culvert, make a hard right to stay on the Blue Trail.  If you went straight/left here, which looks logical, you'd end up on a Spur Trail to Nowhere, so try not to do that.  (The picture on the left was taken after I'd already crossed the culvert, so that's the view looking back.)
5.  Keep following those blue blazes.  You might notice another trail joining from the left, with a big blue X on the tree to tell you not to go that way.  Take that X's advice and keep heading straight/uphill on the Blue Trail.  **UPDATE 11/6/2016** One friendly hiker reported getting tripped up here.  Make sure you stay to the RIGHT to continue on the Blue Trail, and do not get lured to your left onto the X-marked Trail to Nowhere Good.
6.  Shortly after the culvert, the trail reminds you that you are, indeed, climbing a mountain.  The next junction to look for is with the white-blazed South Taconic Trail.
It took us 30 minutes to get to that junction from the culvert, including stops to take pictures of salamanders.
7.  When you arrive at the South Taconic Trail, which joins you from the left (careful you don't stroll past it!), you'll have climbed about 700 feet from the parking area.  You might want to take a breather at this junction, because the South Taconic Trail isn't going to take it any easier on you.
After you've caught your breath, take a left to head uphill on the South Taconic Trail.  You'll take a few steps up the bank, then curve right with the trail at the tree with the "South Taconic Trail" sign on it.
8.  You have about 500 vertical feet to climb until you'll pop out into some awesome views.  Just keep trudging up the South Taconic Trail and all your hard work will be rewarded soon.  From the Alander Brook/South Taconic trail junction, it took me about 25 minutes to get to the views, slogging slowly along, wondering how my two-year-old could possibly weigh 300 pounds.
9.  And all of a sudden, there they are.  Those views.
10.  Keep making your way up the trail, stopping often to look at the view behind you.  There's no one place along this several-hundred-yard length of trail that is the "best" place to take in the view.  If you see a spot that looks good for a picnic or break, by all means, plunk down and gaze into the distance for a while.
11.  On your left, after some more steep climbing, you might notice a sign that tells you you've come .8 miles (that's all?) from the Alander Brook Trail.  Only 1,000 more feet to go until the next trail junction.
12.  Keep climbing, and the trail levels out a bit.  The best views on the mountain are behind you, but there are still more to come.  You'll head back into some trees and bushes to arrive at a trail junction, with a sign sticking out of a small rock cairn.  (UPDATE September 2016: Per Sandy's helpful comment below, the sign pictured here is in seriously sorry shape now, and likely won't be much help to you.  The directions below are still valid. so hopefully this won't slow you down too much!  Just visualize an awesome, helpful sign in that cairn and you'll be all set.  Thanks for the heads-up, Sandy!)
| | |
| --- | --- |
| | |
13.  Optional step: Turn left to head north on the South Taconic Trail and see some different views.  This will add about 20 minutes of hiking to your day, and it will be up-and-back, returning you to this spot.  If you want to see them, turn left and head through the thick underbrush for a few hundred yards, stopping when you get to a small, rocky and grassy clearing.  The views here aren't earth-shattering compared to what you've just seen, but they'd be a destination on any other mountain.  After you've taken them in, return to the junction with the sign sticking out of the rock cairn.
If you're running low on energy, you shouldn't feel like you're missing out on too much if you skip this step.  I skipped it the last time I was here.  The 5.4-mile length for this hike does NOT include this optional step.
14.  From the junction with the rock cairn, facing the sign as if you've just arrived from Step 12 above (whether you did the optional step or not), turn right to head toward the "MASS. PARK HQ".  Goodbye for now, South Taconic Trail!  See you again soon.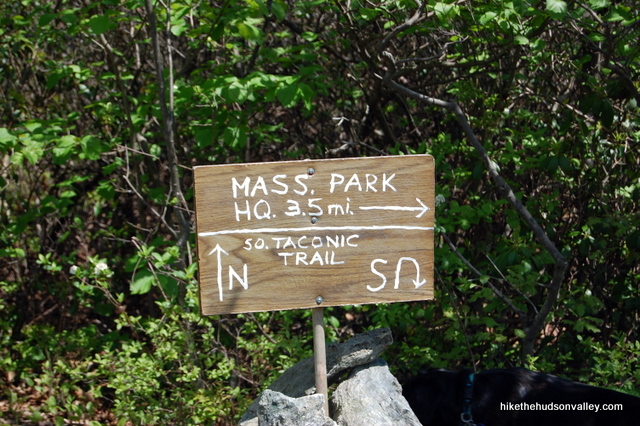 15.  In just a moment, you'll see a cabin through the trees.  Head down the bank to pay it a visit.  From what I can tell, this place is first-come, first-served, and free.  Since there's no camping allowed up here otherwise, the wooden bunks in this cabin look like the only option for sleeping on Alander Mountain.
16.  From the front door of the cabin, look back uphill, the way you just came down.  Straight ahead, you'll see a sign directing you to the right for the Alander Mt. Trail, Alander Mt. Summit and South Taconic Trail.  You could retrace your steps to return to your car back this way if you'd like, but I like a good loop, and the way we'll take down also has some nice views (it's about the same distance either way).
Walk up to that sign and turn left, into the Great Unknown.  Or at least the Great Unmentioned on That Sign, since it doesn't say what happens when you go left.
**UPDATE June 2016** A friend of mine got lost at this spot, so I'd like to make sure we're absolutely crystal clear on the directions here.  Face the front door of the cabin.  Now turn RIGHT, and head back the way you came, very briefly.  In just a moment, you should the see sign pictured just above, with three arrows pointing right.  At this sign, turn LEFT.  (If you were to make a left turn while facing the front door of the cabin, you'd end up descending Mt. Alander on the wrong side, coming, several miles later, to the Mt. Washington St. Forest HQ in Massachusetts, which is what my friend did.  Her group found a nice hiker to drive them back to their car at the other trailhead, a twenty-minute drive, which was very fortunate and cool of that hiker.  But let's do our best to have you avoid hitchhiking today, shall we?)
17.  "Dude, seriously?" you might be asking yourself right about now, as the single-track, blue-blazed trail makes its way through a dense mountain laurel thicket.  I promise, the going gets much easier in just a few minutes.  You're now on the Alander Loop Trail, preparing to make a well-deserved descent.
18.  About five minutes after turning onto the Alander Loop Trail, you'll come to a small clearing with limited views.  If you haven't already stopped for lunch or a snack, this is probably your best bet for the rest of the hike, even though you can't see the views when you're sitting.
19.  Keep heading down the blue-blazed Alander Loop Trail.  Just when you thought you were done with views for the day, you get some more.
20.  You'll keep losing altitude for a solid half-hour after that small clearing with limited views, then the Alander Loop Trail dead-ends into the white-blazed South Taconic Trail.  Turn left to go gently uphill along the South Taconic Trail.  Does the South Taconic Trail ever go downhill?
**UPDATE November 2017** As reported by several alert hikers in the comments below, you may see a "TRAIL CLOSED" sign at this junction, referring to the Alander Loop Trail trail that you've just traversed.  There is no corresponding sign at the top of the trail to actually, you know, close the trail.  Not sure why this sign is here, but until someone tells me that this trail is no longer passable from the top, I guess we'll all just keep pretending that the "TRAIL CLOSED" sign doesn't exist. Carry on, then!
21.  The trickiest junction of the entire hike is coming up in about 10-15 minutes.  It's a right turn onto the red-blazed Robert Brook Trail.  Keep a sharp eye out for it – if you weren't paying attention, it'd be easy to stroll right past it.  If you looking for it, though, you shouldn't have a problem – there are plenty of blazes.
**UPDATE November 2017** According to Rebecca's helpful comment below, this junction now has some fresh signage.  Cool!  Thanks, whoever did that!  (And thank you, Rebecca!)
When you see those dark red blazes, turn right onto the Robert Brook Trail.  If you miss the turn, enjoy the summit of Brace Mountain in about two miles or so!  No, but seriously, don't miss the turn.
22.  Thankfully, you're headed downhill again.  About five minutes after you turn onto the Robert Brook Trail, you'll pass a concrete NY/MA state line marker.
23.  In another five minutes, you'll pass another one, for some reason.  We like our state borders clearly marked, indeed we do.
Directly after that second marker, be sure to take a right to stay on the Robert Brook Trail.  I'm not sure where that trail coming in from the left goes, but it's definitely not to your car.
24.  Keep steadily descending, giving away all that altitude you worked so hard to earn.  It took us 40 minutes from the start of the Robert Brook Trail to reach the eponymous Robert Brook.  Once you cross that brook, you're very close to the finish line.
25.  Less than ten minutes after crossing the stream (probably much less – my son wanted out of the bag, so he walked the rest of the way to the car from here, throwing off my time estimates a bit), you'll arrive back at the junction with the sign-eating tree.  Hooray!
26.  Take a left to head back down the short trail to the road.
27.  At the road, go left to return to your car.  Watch for traffic!  And wait to collapse until you're past all the poison ivy.  Phew!  You made it.  I hope you have something delicious for dinner tonight.  Those calories aren't going to replace themselves.
---
Directions to the trailhead: From Millerton, head north on Route 22.  After about 8.5 miles, turn right onto Under Mountain Road, just after Old New York 22 comes in from the right (for the second time).  Cross over railroad tracks.  About a mile after the turn off of 22, you'll see the trailhead markings on a tree to your left.  (It says "No Parking" here, but I saw two different cars parked here on my trip.  In any event, there's only room for one car, and a nice, officially approved pull-off is just up the road.)  Keep going a few hundred yards past the trailhead, around a corner to find some nice parking spots on the left, directly across the street from a house.  Park the car and let the adventure begin.
You can also get directions by checking out the Alander Mountain (Under Mountain Road trailhead) entry on the HiketheHudsonValley.com Google map.
Sorta nearby address for your GPS: The intersection of Rt. 22 and Under Mountain Road in Ancram, NY is one mile from the trailhead.  Just head east on Under Mountain Road from that intersection and you'll be there in a moment.  (My old-ish Garmin Nuvi lets me put in an intersection as a destination, so hopefully yours does, too.)
GPS coordinates of parking area: 42.06534, -73.51535 (clicking will open in Google Maps or the Apple Maps app, depending on your broswer/device)
---
Related resources: If you're looking for actual facts and/or useful information, visit these resources:
More Alander Mountain pictures from the hike's Picasa album (with a special thanks to my buddy Jeff Hofer for providing some of these photos):
Was this trail guide useful to you?  Please leave a comment!
---
Search HiketheHudsonValley.com: