Scenery: 
Difficulty: 4 out of 10
Highlights: Catskill views, lighthouse in distance, mansion, small cliffs along river
Distance: 4 miles, up-and-back
Approximate roundtrip time: 2-3 hours
This hike is for you if: You like awesome things.  This place is awesome.
Background you can feel free to skip:  The first time I came to the Mills Mansion, I'd just moved to Poughkeepsie and didn't know squat about the area.  After work one day, I came out here and couldn't believe that a place so beautiful was so close to my new home.  By the time I got back to my apartment to nuke a Mama Celeste for dinner, I felt like I'd just stolen a little vacation out of the week.
In gathering the photos to post on HiketheHudsonValley.com, I found 235 pictures of hikes at Mills Mansion, but only 1 picture of the mansion itself, from an old print.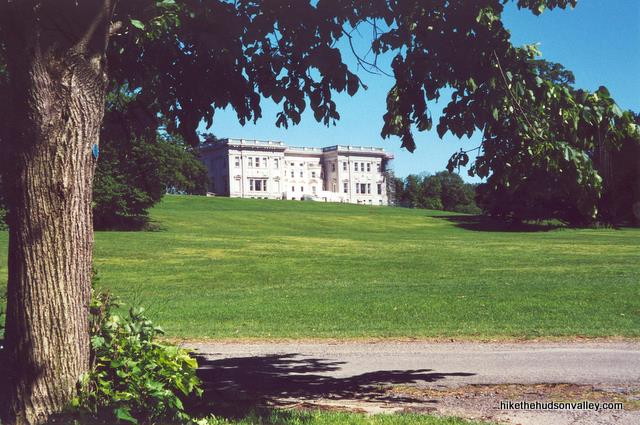 The mansion is a very cool place to check out (there's a small gift shop, and you can take tours), but for me, the main attraction is the white-blazed trail that runs along the river all the way to Norrie State Park.  This trail is one of the few spots in the Hudson Valley where the train tracks veer inland, leaving the shore of the Hudson River yours to explore without a big honking train getting all up in your business.
Mills Mansion has tried to rebrand itself recently as Staatsburgh State Historic Site (somehow not to be confused with Staatsburg, the town just outside the park) for some reason, but I find it's much easier to call it Mills Mansion, so people will know what you're talking about.  I bet someday they'll give up and start calling it Mills Mansion again, like when Prince gave up on people calling him that symbol.  Whatever you call it, you won't be disappointed if you pay this place a visit.  Come for a couple hours and steal a little vacation.
---
Trail guide:
1.  From the parking lot next to the mansion, head towards the Great Lawn.  Man, those poor Mills kids sure had to earn their allowance mowing that thing, didn't they?
2.  Make your way across the lawn, heading diagonally to your right toward the opening in the trees at the river's edge.  Turn around to check out the mansion behind you as you go.  Nice digs, right?  In the middle of the lawn, you'll see a small wooden stage.  They hold free concerts here in the summer.  I've never been, though it's always something I've meant to do (they alternate the venue between here and the Vanderbilt Mansion – here's the schedule.  Check it out if you can.  I went to one at the Vanderbilt a few years back, and it was a very cool event.)
3.  Once you get to the clearing at the bottom-right corner of the lawn and hit the paved path, take in the view.  You can see the Esopus Meadows Lighthouse out in the middle of the river, framed by the Catskills.  The water on the far side of that lighthouse is an area called the Esopus Mud Flats, which is a good name for a country band, but a bad place for a boat.  Hence the lighthouse.  You can find out more about the Esopus Meadows lighthouse at esopuslighthouse.org.
4.  Once you've sufficiently soaked in the view (or maybe spread out a picnic blanket for a bit), turn to your left and stroll down the paved path as it heads downstream.  (There's a separate path that goes downhill to a little bathroom building and dock – you can go check that out it you want, but there's nothing earth-shattering down there, unless you have to go to the bathroom, I suppose.  Then it would seem pretty awesome.)
5.  Stay on the paved path as it heads towards the Gardener's House.  Just before that house, hang a right on the gravel road that heads downhill towards the river.  To your right is another righteous area of the lawn with nice views.  My wife Kara and I used to talk about getting married on that lawn – we've seen it done there before, with tents and caterers all over the place.  Then we remembered that she's from Binghamton, so we got married there instead.
6.  The gravel road passes by a very popular dog-swimming spot, where the river is calm and wide.  Depending on the tides, there can be a nice little beach down here.  For our dog Memphis, there's probably no greater place in the universe.  (Always responsibly leash your dog, of course.  Especially when she's wet.  Nobody likes that.)
7.  Follow the gravel road as it turns uphill, where you should shortly see the white-blazed trail heading off to the right, hugging the small cliffs that rise above the river's edge.  Man, this place is awesome.  You'll want to follow the white trail, but read the next step before you do.
8.  Completely optional step: At just about the place where the white trail begins, you'll see some other trails heading up to the left, into the woods.  These trails meander around some of the mansion's outbuildings, which are cool to see as well.  There's also another mansion-esque structure biodegrading a few hundred yards back there, called the Hoyt House.  My wife and I used to daydream about how we'd somehow get rich and buy the Hoyt House, fixing it up and maybe cutting down a few trees to restore the river view that must have been awesome.  Then we bought an actual old house in Rhinebeck and decided that maybe owning a house where everything is falling apart isn't that glamorous after all.  In any event, either on your way out or your way back, you might want to take a few minutes to explore up there, then head back to where the white trail begins.  We usually skip that part these days, but it's worth seeing at least once.
**Update April 29, 2014**  Looks like the Hoyt House is getting a makeover!  Awesome!  Thank you to all the people making this happen.  That's fantastic news.  It's just as well my wife and I didn't get to it in time — $6 to $7 million for restoration is just slightly out of our price range.
9.  Follow the white trail up and over the small cliffs.  The trail descends back to river level, where you can follow a very short little spur trail off to your right to walk out onto a peninsula of rocks.  After a long, cold winter, if you come here on the first warm day, the ice floes creak and crack into each other, putting on a surprisingly loud show and making you feel like a polar bear.  On a warm day, it's tough to find a nicer spot to relax.  One of my favorites in the Hudson Valley.
10.  Continue on the white trail as long as you like – it hugs the Hudson all the way down to Norrie State Park (about two miles away.)  You'll find a couple of little secluded areas along the river as you go.  Nice places to skip a rock or two.
11.  If you do stroll all the way to Norrie Park, you'll find some choice picnic areas with tables.  We usually hang out here for a snack and then head back.  If you kept going, you'd end up down at the Norrie Point Environmental Center, and there's a small marina down there, too.  But if you're dying to see those places, you could just drive there via the Norrie Park entrance, a mile or two south of the Mills Mansion entrance.  I'd recommend making the picnic tables your final destination – that'll make for a nice 4-mile round trip.
12.  Whenever you decide to end your hike, just head back the way you came.  Then high-five yourself (and anyone else who may have accompanied you) for being just a little bit cooler than when you started.
---
Directions to the trailhead: From Hyde Park, head north on Route 9.  About fifteen minutes out of town (shortly after the Anderson School), veer left onto Old Post Road (it makes a Y with Route 9).  Just past the village of Staatsburg, you'll see the old, falling down (but otherwise quite beautiful) wall lining the mansion property on your left.  Dinsmore Golf Course is on your right.  Turn left into the Mills Mansion entrance.  Inside the park, you'll go over a little railroad bridge and come to a stop sign.  Hang a left to go up the hill toward the parking area on the far side of the mansion (I know it says go straight for parking, but there's a fine little parking lot up the hill, and I like starting out with a nice walk down the Great Lawn).  Park the car on the far side of the mansion and prepare to rock and roll.
You can also get directions by checking out the Mills Mansion entry on the HiketheHudsonValley.com Google map.
Sorta nearby address for your GPS:  The Staatsburg Post Office is less than a mile south of the Mills Mansion main entrance, right off of Old Post Road.  Its address is:
1 Market Street
Staatsburg, NY 12580
GPS coordinates of parking area: 41.8561, -73.92964 (Clicking will open in Google Maps or the Apple Maps app, depending on your browser/device.)
---
Related resources:  See the official Staatsburgh State Historic Site page if you're looking for actual facts and/or useful information.
More Mills Mansion pictures from the hike's Picasa album:
Was this trail guide useful to you?  Please leave a comment!