Background
**WARNING** While most Hudson Valley parks and trails have reopened, there are still a few notable closures and parking restrictions to be aware of. Before heading out for your next adventure, please check my Hudson Valley trail closures and parking restrictions due to COVID-19 page to make sure that your intended destination is open. I'll do my best to keep that page as up-to-date as possible. The New York-New Jersey Trail Conference offers concise, excellent advice on hiking during this crisis here: The New Hiking How-tos. Please read it before heading out into the wild green yonder, and let's hope that everyone will adhere to that guidance so that we can keep heading in the right direction in the Hudson Valley. Hang in there and stay safe, everyone! I very much look forward to deleting this warning someday.

And also! From here on out, 50% of the proceeds generated from the purchase of sweet custom gear from Hike the Hudson Valley's online store will be donated to the NY-NJ Trail Conference, the organization that makes so many of our adventures possible. Look sharp out there while supporting the trails! Or just wear whatever you have already. That's cool, too.
Background you can feel free to skip:  For years, Bear Mountain State Park was a notable omission on HiketheHudsonValley.com, serving as arguably the most quintessential Hudson Valley hike not yet documented here.
While the views here are undeniably, famously gorgeous, it was hard for me to build up too much steam to write a trail guide for this hike, for this reason: right beside the beautiful view, there's a big, fat, busy parking lot.
After you've spent the afternoon busting your hump to climb a mountain, you know what you don't want to see at the summit?  Minivans.  Harley-Davidsons.  Flip-flops.  Crowds.  Vending machines.  (Okay, maybe the vending machines are okay.)
"Look at all the cheaters up here!" my eight-year-old son said, dripping with sweat, as the trail led us into the parking lot.  We'd only seen a handful of other hikers on the way up, but the summit was teeming with humanity.  And vehicularity.
"Shhhh, buddy, time to stop calling them 'cheaters' now," I whispered.
Sharing the summit at Bear Mountain with your fellow humans is a part of the deal with this place.  There WILL be people up there.  And really, why shouldn't there be?  What an amazing place.  It deserves to draw crowds, and there's plenty of room on that rocky bluff for everyone.  Even the cheaters.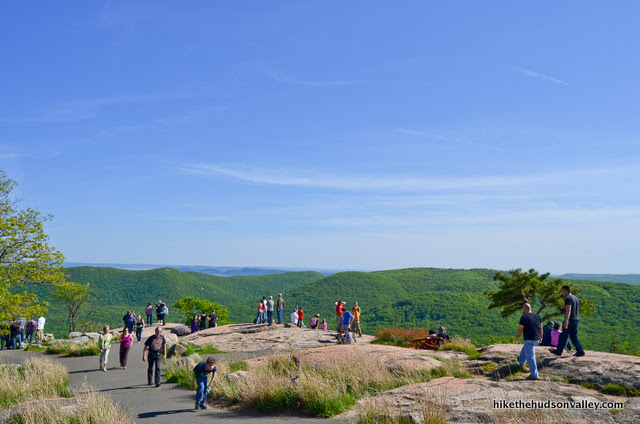 If you skip climbing Bear Mountain just because of the parking lot, you will be doing yourself a terrible disservice.  This is a phenomenal hike with fun rock-clambering, multiple wonderful views (some more secluded than others), and some of the most insane trailwork I've ever seen.
According to signage along the trail, the section of Appalachian Trail that you'll traverse on your descent features over 1,000 stone steps, each one painstakingly installed without the use of heavy machinery.  This trail section is a marvel of ingenuity, engineering, and backbreaking manual labor, and we are all indebted to the people who did this work. (According to this Bear Mountain Trails Project page, it was the always-awesome New York-New Jersey Trail Conference, in cooperation with several other super-cool groups, that made all this awesomeness happen.)  To everyone who created this trail, thank you for making the Hudson Valley a better place to live, visit, and explore!
Besides the awesome hiking, this park also offers many other activities.  When my family visited Bear Mountain several years ago (we drove to the top that time, because, well, we had little kids and, hey!  Stop judging me!), we also visited the Trailside Zoo and the rockin' carousel.
You could also take a short walk to the Popolopen Creek Suspension Footbridge, or rent boats on Hessian Lake, swim in the pool, go ice skating in the rink (current rates for those activities on the Bear Mountain homepage), or grab some grub at the restaurant or the hiker's café at the Bear Mountain Inn.  Many people just lounge on the lawn and enjoy the views of Anthony's Nose looming across the river, too.
There's plenty to do here, so whenever you visit, expect to have some company.  You may do better to hit this hike on a weekday – the parking lot can fill up on nice weekends.  (I drove by Bear Mountain on the Fourth of July, 2017, and it was a madhouse.  People were parked illegally all over the place, including the center of the roundabout at the Bear Mountain Bridge, and were being ticketed accordingly.  Dudes were dragging coolers across three lanes of traffic.  Some families were picnicking in the median!  Definitely do NOT try to do this hike on the Fourth of July, unless you enjoy having the worst time of your life.)
The park opens at 8am year-round, so if you're visiting on a nice weekend, you'd be well-advised to get there as close to 8am as possible.
Once you're on the trail system, too, you may find some depressing reminders that some people just aren't as cool as you and me.  My pack and pockets were full of other people's trash by the end of the day, and I only scratched the surface.  Humans: So cool sometimes, so not cool sometimes.
But even with the sea of humanity that you may find elsewhere at Bear Mountain, and the all-too-frequent litter, the trails and scenery here are truly beautiful, are quite secluded in many spots, and should be on every local hiker's to-do list.
My only regret about hiking Bear Mountain is that I didn't do it sooner.  If you've never been, or maybe even if you have, you should put this hike into your rotation.  And just think how much gas you'll save by not just driving to the top!
Trail Guide
If you find this free trail guide useful, please provide payment by picking up at least one piece of litter on your hike. Cha-ching! Thanks for being awesome! (And here's a quick primer on Leave No Trace, too, to help us keep the trails nice and fresh for each other.)
1. From the parking lot (see "Directions to the trailhead below"), cross the field to the left of the Bear Mountain Inn, either by walking across the field itself, or by tromping on the sidewalk that wraps around the inn.
There's a paved path behind the inn that keeps heading directly away from the parking lot, toward several other paved trails back in the woods.  That's where you want to be.
As you venture back there, you'll see picnic areas and Hessian Lake on your right (don't turn toward the lake).
On your left, you can see across the field to the awesome carousel building.
Straight ahead, you'll see the junction where several trails converge.  Hop on up to that junction, assuming you don't get a better offer to crash a picnic along the way.
2. This junction marks the start (and end) of our loop for the day. We'll be hopping on the Major Welch Trail to ascend Bear Mountain, and coming back down on the Appalachian Trail.
Let's get started!  Take the rightmost option, toward the perimeter of Hessian Lake, to find the three funky red-circle-on-white blazes that you'll follow on the Major Welch Trail all the way up.
3. Enjoy the views of Hessian Lake as you amble along the paved path to its left. If you'd like to pause this hike to go rent a paddleboat, now's your chance!  We'll wait here.
4. You'll stroll along this relatively flat paved path for just over .5 miles, enjoying views across the lake to Anthony's Nose and the top of the Bear Mountain Bridge. Wave to any friendly turtles you pass, and enjoy the smooth sailing.
5. As you near the far side of the lake, you'll find a nice, rocky overlook on your right, where you can hop up and check things out.
6. Immediately after that overlook, look for the sign on the left side of the trail that marks the end of your paved vacation. Turn left here to head uphill, following the Major Welch Trail – which now becomes an actual trail.
Say goodbye to the easy livin'!  Time to go to work.  Over the next 1.25 miles, you'll climb 1,064 feet.
7. The trail immediately becomes steep and rocky.
In about ten minutes, you'll hop across a (probably seasonal) stream.
A moment after that, an unmarked trail heads to your left, up to a giant's hot tub.  Don't go that way.
Head right/straight to keep following the Major Welch Trail.
8. Immediately after the giant's hot tub, the trail splits again, with an unmarked trail heading down and to the right – don't go that way. Veer left to stay on the Major Welch trail.
9. Pay close attention in this next section – if you don't play a game of "Find the Next Trail Marker" the whole way, you could easily wander off-trail. In particular, about five minutes after you veered left to stay on the Major Welch Trail, you'll come upon a tree with a blue X on it (as of June 2017) – you have to look past that tree, uphill, to find the next Major Welch blaze.  Otherwise, you could wander straight here into the wild green yonder.
Major Welch is adequately (but not abundantly) marked through this area – look alive out there, and keep watching for those blazes.
10. As the trail continues ascending, you'll wander through some mountain laurel thickets that must be amazing at the right time of year.  (By June 21 they were already past peak, but not by much.)
You'll also see some amazing trail work here.  These stone steps must have taken many gallons of elbow grease to build.
About twenty minutes past the giant's hot tub, you'll arrive at my son's favorite stretch of trail, with several steep, open rock faces to traverse.  (I was a little concerned about how my 9.5-year-old pooch would do here, but she clambered right up, no problem. She's a good girl. Yes she is.)
As you're clambering up those rock faces, don't forget to peek behind you occasionally.  There's a view back there!
11. Just a few minutes beyond the rock slabs, you'll emerge onto your first bona fide viewpoint of the day. There were several folks resting here when we ambled through.  You get a view up the Hudson to the north, along with a glimpse at the Bear Mountain Bridge.
From here, it's just 325 more vertical feet and .8 miles to Perkins Tower.  You could that walking on your hands, right?
12.  Less than ten minutes after the viewpoint, after some more climbing, the trail crosses Perkins Memorial Drive, aka Cheaters' Highway. (Watch out for cars, and feel free to smile, wave, and mumble "cheater" under your breath as they go by.)   Look to your left to pick up the trail again.
13. After crossing Cheaters' Highway, you'll pass another beautiful section of trail that the cheaters will never get to see. So who's really getting cheated here?  Right?  Right????  Right.
About six minutes after the road crossing, you'll arrive at a junction with a blue-blazed trail.  From this junction, your vertical climbing is pretty much done.  Congratulations!  It's just .4 smooth-sailing miles to the tower from here!
Turn left here (toward a big boulder, away from the Blue Trail) to continue on the Major Welch Trail.
14. In just a minute, the Appalachian Trail joins us from the right. Keep heading straight on the now-dually-blazed Major-Welch-and-Appalachian-Trail hybrid.
If you're here in July or August, keep on the lookout for blueberries in this stretch.  There are plenty of bushes here, but they weren't quite ready for us in late June.
15. Keep following the double-blazed (white and white-with-red-circle) trail. In another moment, the trail crosses a gravel road, and you'll stay straight/right to keep following the blazes.
16. Shortly after crossing that road, you'll start to get a glimpse of the tower parking lot through the trees. You'll also get a gander at the little building with the vending machines.
"Vending machines by the road?  For people who got all hungry working the gas pedal to get up the hill?" I asked.  My son liked that one.
17.  In just another moment, you'll emerge into the (sigh) parking lot.
To your left, porto-potties!  (And in the vending machines, Pringles!)  Woo hoo!
Even better – straight ahead, Perkins Memorial Tower, named after the place that served pancakes this morning to all the people who drove up here.
Kidding!  It's really named after George Wallbridge Perkins, the first president of the Palisades Interstate Park Commission.  Thanks, George!
18. Venture around to the other side of the tower. On my first visit to this spot (as a cheater), the door was locked (karma for cheating).  On our most recent visit, though, it was wide open.  If it's open for you, hop in there and check it out!
What a cool spot.  You'll find exhibits and information all over the place, along with some 360-degree views at the top.
19.  When you're done up there (or if you couldn't get in, because you've done something bad), hop across the street to check out the views. This is the true money spot.  Soak it in.  See the NYC skyline over there?
Perhaps you can even find a friendly cheater (obvious by their lack of sweat and synthetic clothing) to take a photo for you.
What a nice place to be, no matter how you got up here (but especially if you didn't cheat).
20. When you're done ogling the money spot, it's time to hop on the Appalachian Trail for our descent. To pick up the trail, when you're standing at the overlook, turn to face Perkins Tower, with the view at your back.  Turn right to head downhill for a moment on the paved road (the loop for cars, not the paved footpath).
Almost immediately, you should see the white-blazed Appalachian Trail heading downhill to your right.
As of this writing in August 2017, this short section of trail is under construction, with the entrance blocked off.
If that's no longer the case when you visit, enjoy the new trail section, and start following those white blazes, person of the future!  You can skip to Step 21 now (where the Appalachian Trail crosses the road in just a minute).
Temporary step: If the Appalachian Trail is still under construction during your visit, just follow the road (and the plentiful temporary signs) downhill.  In a couple of minutes, when the road splits, take the right fork, toward Scenic View (not EXIT).  
In another minute, stroll straight past a turnoff on your left for a picnic area. 
Immediately after that picnic area turnoff, the well-marked Appalachian Trail heads into the woods on your left.  That's where you want to be – turn left to hop on the Appalachian Trail here. 
21. Now that you're on the Appalachian Trail, you can just follow those white blazes all the way back to the start of today's loop (from Step 2 above). I'll keep on blathering here, just in case anyone finds it useful, but I will not be offended at all if you don't read any further.  Really.  It's fine.
You're still here?  Great!  Man, I'm really offended by all the people who aren't reading this anymore.  But not by you.  You're cool.
From the road crossing, the White Trail descends through picturesque woods, until it plops you out onto another road in about five minutes.  Cross the road to the right to head back into the woods – make sure to look for those white blazes on the boulders lining the road, too.
22. Enjoy the views and watch your step! Less than five minutes after crossing the road, keep a lookout for a sharp left turn in the trail, marked with two white blazes.  My son almost wandered in the wild green yonder here.
23. One minute after that sharp left, you're dumped onto another road. Turn right to walk along the road (which doesn't have much traffic, but we did see one car driving along here).
You'll walk on this road for about five minutes, noting the blazes on the boulders as you go.  When you reach the cul-de-sac, follow the trail as it veers off to the right.
24. Immediately after you veer right at the cul-de-sac, the trail turns left, and you can hop down the stone steps to gratefully leave the pavement behind.
25. Welcome to Land of the Stone Steps!  There are about 1,000 stone steps between you and the end of the loop.  My son counted the steps until the novelty wore off – he made it to 200.  By the time we got to the bottom, we both agreed that 1,000 seemed like a pretty good estimate.  (UPDATE September 2017: In the comments below, Andrew counted all the steps and came up with 716.  I don't know if I'm more impressed at the dedication of the people who built those steps, or Andrew's dedication for taking the time to count them all.  You'd probably get to over 1,000 if you counted the steps on the Major Welch Trail, too.  Anyone want to give us a count on those steps?)
26. After many more steps and some beautiful stretches of trail, you'll pop out onto another nice view, this time looking south down the river. (Took us about 12 minutes to get here from the cul-de-sac.)
You can also get a hint of the Bear Mountain Bridge through the trees.
27. Just a couple minutes (and many more stone steps) after that view, you'll cross a footbridge that looks like it took some serious know-how to build.
28. From the footbridge, it's about five minutes to your next trail junction, when you pop out from some cool rock formations to find the Blue Trail heading off to your right, downhill. Don't go that way!
Turn left, slightly uphill for a moment, to continue on the White Trail.
29. Check out the educational signage as you marvel at the last few (dozen) stairs for the day.
In just a moment, you can catch a glimpse of Hessian Lake through the trees.
And then, boom!  You're back where you started.
30. Your options from here:
Play on the righteous playground right over there
Check out the grub options in the Bear Mountain Inn
Hike the remaining 786 miles to Maine, grab a nice lobster dinner
Head straight back by the Bear Mountain Inn to locate your car in the parking lot
We chose the last (and perhaps lamest) option, after reading some more educational signage.
Whatever you choose to do from here, I hope you're glad you chose to do this hike today! Congratulations on hiking to one of the most beautiful spots in the Hudson Valley, even when you could have cheated. Your honesty entitles you to at least an extra 1,500 calories at dinner tonight, and one full-size can of Pringles. Enjoy!
Directions to the trailhead: This park is located immediately south of the Bear Mountain Bridge, on the west side of the Hudson River, on Route 202/Route 9W. If you're coming across the bridge from the east, enter the roundabout, then take the last exit for Route 202 west and Route 9W south, toward Haverstraw. You'll immediately see Hessian Lake on your right. In just a moment, at the stoplight, veer right onto Seven Lakes Drive, then turn right at the Bear Mountain Inn to follow the signs for PARKING. At the parking lot entrance, let the attendant relieve you of $10, find a spot, then hop out and let the adventure begin!
You can also get directions by checking out the Bear Mountain State Park entry on the HiketheHudsonValley.com Google map.
Sorta nearby address for your GPS: The park lists its address as:
Route 9W North
Bear Mountain, NY 10911
While there's no street address, for most mapping apps, you can simply enter "Bear Mountain State Park" and it will take you to the right place.
GPS coordinates of parking area: 41.31204, -73.98869 (Clicking will open in Google Maps or the Apple Maps app, depending on your browser/device.)
Super-cool Google Earth flyover of hike route:
Google Terrain Map of hike route:
Related resources: If you're looking for actual facts and/or useful information, visit these resources:
Want to support trails in the Hudson Valley? Here's one great way: Visit the New York-New Jersey Trail Conference homepage and click on Volunteer, Donate, or Shop! (Then you can volunteer, donate, or shop, depending on your mood.)