Yesterday afternoon, I posted the following warning at the top of all 82 trail guides currently featured on Hike the Hudson Valley:
**WARNING posted March 27, 2020** Many of the most popular trails in the Hudson Valley have closed during the COVID-19 crisis, including Breakneck Ridge, Mt. Beacon, Bull Hill, Little Stony Point, Mohonk Preserve, Vanderbilt Mansion, and many others. Hikers are also urged to stay off the Appalachian Trail. If you decide to hike during this crisis, please read and follow this guidance from Scenic Hudson (their parks – except for Mt. Beacon – remain open as of this writing), and stay as close to home as possible. You'll also find excellent guidance from the New York-New Jersey Trail Conference in this article: How to Hike a Trail Less Traveled. Hang in there and stay safe, everyone! I very much look forward to deleting this warning someday.
Sigh. I don't know about you, but 2020 is not unfolding quite as I'd expected.
After civilization shut down a couple of weeks ago, nature offered a welcome respite for many of us. TOO many of us, in fact. Last weekend, parking lots at many area hikes were overflowing. Trails that ordinarily see a handful of visitors were packed. Popular trails were overrun.
People were probably expecting to experience scenes like these:
Instead, they found scenes more like these: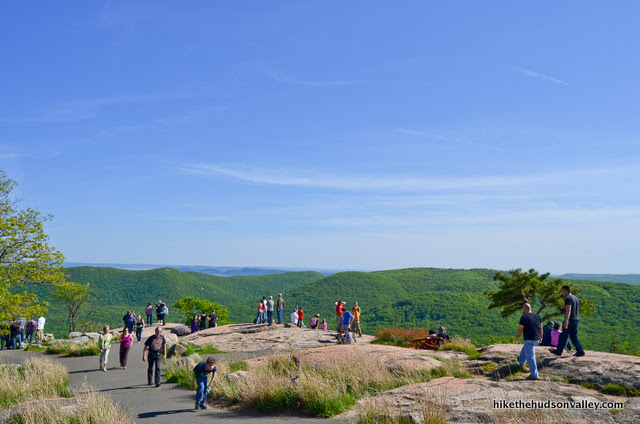 Overcrowded conditions last weekend led to a slew of closures this week, including (but limited to):
Breakneck Ridge, Bull Hill, Little Stony Point, and all trailheads along Rt 9D in the Cold Spring/Philipstown area (link to Facebook post on these closures)
Vanderbilt Mansion (it was actually already closed before the weekend)
Mt. Beacon
The Appalachian Trail (and various access points in the area)
Ramapo Reservation, Campgaw Mountain, all Bergen County Parks (New Jersey)
Mt. Tammany – Dunnfield parking area closed (Delaware Water Gap)
Probably lots more! (If you know of other closures, please post them in the comments and I'll update this site accordingly)
State parks and most Scenic Hudson parks (with the exception of Mt. Beacon) remain open for the time being.  The Trail Alerts page from the New York – New Jersey Trail Conference is a helpful resource to keep track of closures (just be aware that it is not a comprehensive list).
**UPDATE March 30** For more detailed information about the recent closures and parking restrictions, check out this Hudson Valley Post article: New Restrictions in Place For Many Hudson Valley Hiking Trails.
As for my recommendations on where to hike during this time, that feels like a trick question. Once people go there, other people shouldn't go there. Quite the conundrum!
The NYS Department of Environmental Conservation is keeping state lands open, offering some excellent advice in this press release posted today: DEC and State Parks Encourage Responsible Recreation During COVID-19 Public Health Crisis. If you're going to hike, I highly recommend reading that page.
The New York-New Jersey Trail Conference is telling everyone to stay home. As much as the trail closures have certainly been a buzzkill for all of us, the Trail Conference is about the hiker-friendliest organization that exists, and they always give excellent advice. Staying home is indeed the safest option. And the parks that have closed really needed to be closed — they were creating unsafe conditions for the public health.
Of course, besides your living room, nature should theoretically be about the best place to be right now, as long as everyone else isn't there, too. Which is why everyone is going there. And why we probably shouldn't go there, too.
Looking for an escape, we took our family down to Dennings Point in Beacon last weekend. It was glorious just to not be in our house for the afternoon.
That being said, the trails were crowded (I strategically avoided photo bombers in the pics above, but it was tough to do). We've been uber-protective of our kids through this crisis, locking them down to our house (with the exception of forced marches around the neighborhood): no playdates, only seeing family on FaceTime, and doing all the things we're supposed to do.
Out on the trail, though, as conscientious as we tried to be, there were a few times we just couldn't move six feet from other hikers. One vaping teenager blew a cloud of vape-smoke that wafted across all of our faces, serving as a nice visual reminder that, you know, you can't always help breathing in other people's fumes out there. (And also, teenage dude, c'mon, man.)
So it's possible we'll go out again as a family, but probably not. And if we do, it won't be on a crowded weekend afternoon. On a related note, driveway badminton is more fun than you'd expect! The nets are pretty cheap on Amazon. Fore! (Or whatever you say when you're playing badminton.)
If you're looking for a spot to get out into nature and clear your head, you'd probably do best to visit a local stroll-in-the-woods park. You know those parks with no views, just nice trails? Those would probably be your best bets to find some solitude these days. (Avoid the big views and big waterfalls — avoid anything exciting, really.)
If you're looking at "The Hikes" page for inspiration, maybe start looking at the hikes with the lowest scenery ratings? Less is more! And off-peak times are best! Hello, Tuesday evening!
However you choose to keep you and your family safe through this crisis, I wish you all the best, and hope you can find some peace and solitude somewhere in the Hudson Valley, even if it's just in your backyard for now.
And I very much look forward to a day when we can high-five each other out there on the trails again. (Or at least elbow bump.)