Scenery: 
Difficulty: 5 out of 10 (short, steep climb)
Highlights: Hang glider launch ramp, hill-and-town views, beautiful open field
Distance: 3.0 miles, up-and-back
Approximate roundtrip time: 1.5 hours
Total ascent: 657 ft
Max elevation: 1,066 ft above sea level
This hike is for you if: You like short hikes to big payoffs. After a stroll across a field, you'll come to a hill that rewards 30 minutes of steep climbing with a very nice view.
Super-cool Google Earth flyover of hike route:

Google Terrain Map of hike route:

Background you can feel free to skip: I'm pretty sure the hang glider launch ramp at Thomas J. Boyce Park was still in use back in 2000 when I first visited this spot, but not anymore. There are tall saplings growing up in front of it now, and only someone with a manglewish would dare step more than a couple feet out onto that rickety thing.
It's a shame that the ramp is no longer in use, because now the trees are taking the place over.  Check out the view from the summer of 2000:
And here's a shot from September 18, 2011:
The view is still nice, but nature is reclaiming this place.  Even so, it's a very pleasant spot to sit and relax, overlooking a rural area with hills and mountains on the horizon, and you can imagine what it would have been like to take a running leap off that ramp.
Even with the disappearing view, this hike is still a must-do, thanks to the beautiful meadow that you stroll across to get to the climb.  This must be one of the most gorgeous meadows in the Hudson Valley.
Plus, for the little hiker, there's a pretty awesome playground right beside the parking lot.
When you head out to Boyce Park (and if you've never been, you should definitely make it a point), you'll want some good footwear and a camera.  But you can leave the hang glider at home.
---
**UPDATE January 20, 2014** The trail to the overlook briefly wanders onto an adjoining property that recently changed hands, and the new owners do not want hikers on their land, which will be a hunting and wildlife preserve (see the comments below).  Please obey all posted signs.  The overlook is no longer accessible via the trail described below.  Bummer.  The meadow is still a righteous place to visit, though!  And the sliding board still rocks the house!  
Trail guide:
1. From the parking area, take a look at the large hill looming behind the park. At the top, just to the left of the summit, do you see the little clearing with a wooden platform? That's where we're headed.
2. Walk past the basketball courts and soccer fields on the dirt road leading towards the hill.
You'll come to a gate that's normally closed, with permitted park uses posted.
Walk around the gate and continue on the road, which rises gradually into the enormous field. You'll see an equestrian ring off to your right. You don't need to do anything there, unless you brought your horse. If you're lucky, at about this point, your wife will take a shot of you and your baby that completely misses all your bald spots, and this will be your Facebook profile picture for the next several years.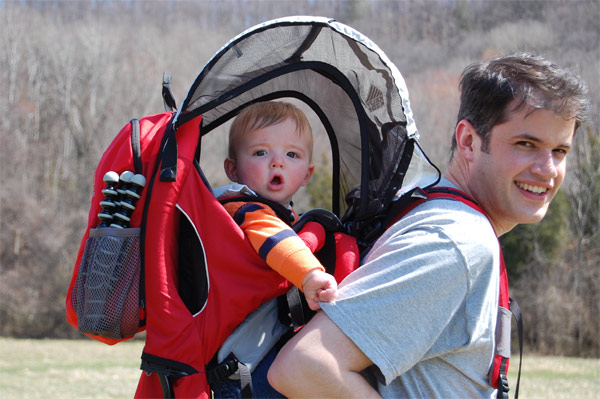 3. You'll come to a fork in the road where you can go straight or left. It doesn't matter which way you go. Both roads (paths, really, at this point) meander in the general direction you're trying to go. (UPDATE August 2013: If you choose to go straight, make sure to turn left before you hit the treeline.  One hiker reported going straight into the trees to discover a nice NO TRESPASSING sign there.)  Just make your way towards the back-left corner of the field — the trail you're looking for is tucked into the very furthest back-left corner of the meadow. You'll see a house peeking over the left border of the park.
4. If the conditions are right as you stroll across the field, try your best to take artsy pictures.
 5. You'll pass some horse jumps made of tires. If you forgot your horse, the jumps won't do you much good. The trail up the hill begins just past the last jump. Plunge into the trees there, in the back-left corner of the meadow, and you can't miss the trail.  (In case you missed the update at the beginning of this trail guide, you can't get to the overlook anymore without trespassing.  So, you know, now would be a good time to hang a U-turn.)
6. Once you enter the woods, the trail can be a little overgrown and damp, depending on the time of year and previous weather conditions. Have no fear — it quickly turns into a nice, clear, well-drained trail, and remains that way until the top.
7. Follow the unmarked-but-well-traveled trail up a steep and steady climb to the clearing with the hang glider launch ramp. It's not a long climb, but it's not messing around. I've seen people give up and go home.  Still, you can hoof it up there in about 20 minutes.
8. Once you get to the top, drink in that view and take some pictures. The view isn't gigantic, but it's a nice place to relax and pretend you're about to take a flying leap off the hill.
9.  If you brought your family, hang your camera from a tree to get everyone in a picture.
10. After you've sufficiently chilled, head back the way you came. Somehow, the field always looks cooler on the way out. Such a nice place. Don't forget to have a frolic before you go.
---
Directions to the trailhead: Coming from Poughkeepsie, take 55 East past the intersection with Rt. 82 to a left turn onto Bruzgul Road (County Route 21). Stay on County Route 21 as it changes names 17 times for no good reason, eventually dead-ending onto Route 22, just north of Pawling. Take a left at the dead-end, and Boyce Park will be on your right in a hundred yards or so. Park in the main lot.
You can also get directions by checking out the Boyce Park entry on the HiketheHudsonValley.com Google map.
Sorta nearby address for your GPS: The Wingdale Elementary School is right across the street. Plugging its address into your GPS will get you close:
6413 New York 55
Wingdale, NY 12594
GPS coordinates of parking area: 41.6485, -73.55805 (Clicking will open in Google Maps or the Apple Maps app, depending on your browser/device.)
---
More Boyce Park pictures from the hike's Picasa album:
Was this trail guide useful to you?  Please leave a comment!