Background
**WARNING** While most Hudson Valley parks and trails have reopened, there are still a few notable closures and parking restrictions to be aware of. Before heading out for your next adventure, please check my Hudson Valley trail closures and parking restrictions due to COVID-19 page to make sure that your intended destination is open. I'll do my best to keep that page as up-to-date as possible. The New York-New Jersey Trail Conference offers concise, excellent advice on hiking during this crisis here: The New Hiking How-tos. Please read it before heading out into the wild green yonder, and let's hope that everyone will adhere to that guidance so that we can keep heading in the right direction in the Hudson Valley. Hang in there and stay safe, everyone! I very much look forward to deleting this warning someday.

And also! From here on out, 50% of the proceeds generated from the purchase of sweet custom gear from Hike the Hudson Valley's online store will be donated to the NY-NJ Trail Conference, the organization that makes so many of our adventures possible. Look sharp out there while supporting the trails! Or just wear whatever you have already. That's cool, too.
Background you can feel free to skip:  The rock scramble at Bonticou Crag takes you to one of the most spectacular natural places in the Hudson Valley (or anywhere else).
My buddy Rob came up from NYC to join me for this hike, and the whole time we were out there, he kept saying, "I had no idea there were places like this so close to the city."  He was blown away by all of the sights at Bonticou, and he agreed that missing the extra stroll to Table Rocks would be a crime.
I'd also planned to bring my pooch along for the hike, since I'd heard that dogs go up the rock scramble at Bonticou with some regularity.
"Don't bring your dog up there," my friend Don said when he got wind of my plans, giving perhaps the best advice I'd ever received.  I knew that Don's young daughter had cried when climbing the Crag Trail many years ago, scared of the steep rock scramble, and had then come back years later as a fifteen-year-old to conquer it, but I'd been thinking that my dog Memphis was up to the challenge.
No way.  This trail is not meant for dogs or very small children.  It's very steep, hopping along huge boulders, and there's one spot in particular where I just don't see how any dog could ever ascend it, unless it was carried in a backpack.
The difficulty of the rock scramble didn't seem lost on the buzzards that were hanging out on top of the cliffs the day we were there.  I didn't like the way they licked their beaks when they looked at us.
You could take a circuit around the rock scramble at Bonticou – I'll point out how to do that in the write-up below — but if you're able to do the scramble, you'd be doing yourself a terrible disservice to miss it.  I love hiking with my dog, but I'm glad I ditched her for this one.  It'd be a shame to miss out on visiting one of the most awesome places in the Hudson Valley.  (And also one of the most popular.  If you're coming on a nice weekend, get here early – or closer to the end of the day – or you run a real risk of driving all the way out here to find the parking lot full.  I prefer to come here on weekday evenings, if possible.)
Our most recent visit to Bonticou was also my first visit out to Table Rocks, which I'd initially planned to make an optional point of interest, since visiting there adds a few miles to this hike.  After checking it out, though, I don't think it's optional anymore.  If you've come all the way out to Bonticou and paid the entrance fee, you should burn a few extra calories to visit Table Rocks as well, which is an awesome destination in its own right.
If you have a day to burn, you'd have a hard time finding a better place to burn it than Bonticou.  If you've never been, definitely make a plan to go.  But leave the doggie at home.
Trail Guide
If you find this free trail guide useful, please provide payment by picking up at least one piece of litter on your hike. Cha-ching! Thanks for being awesome! (And here's a quick primer on Leave No Trace, too, to help us keep the trails nice and fresh for each other.)
1.  From the parking area just past the guard shack, head uphill to find a shortcut through the woods near the last parking spot, on your right.  Head up the shortcut towards the beginning of several trails.
(This place is laced with trails heading all over the place – please follow this trail guide very carefully, and you'd do well to follow along on the map they'll provide at the guard shack, too.  It's easy to get lost during your travels around Bonticou, and while most trails and intersections are excellently marked, some aren't marked at all.)
2.  Keep heading straight across Spring Farm Road.  A gate will be on your left as you cross the road and hop on the Crag Trail on the far side, turning left to keep going uphill, parallel to Spring Farm Road.
3.  Follow the blue blazes uphill.  In about two minutes, you'll come to a four-way intersection.  Turn right to hop on the red-blazed Crag Trail.
4.  Walk past a beautiful meadow with some small views off to your right.  When you see other trails split off, just stay straight on the red-blazed Crag Trail.
5.  The Crag Trail heads into the woods and crosses over Spring Farm Road.  Keep following the red blazes.
6.  In just under ten minutes, you'll come to the most confusing intersection you'll see today.  Even staring at two maps, I had a hard time sorting this one out.  You're at the intersection of the Crag Trail, Bonticou Road and Cedar Drive.
On the day we visited in late summer 2011, the signage wasn't all that helpful (it was blank plywood).
You want to make a 90-degree left turn here, to head out on Bonticou Road.  It's the gentle left turn, not the sharp left you could take to almost make a U-turn and head backwards on Cedar Drive.
Take the left on Bonticou Road and steel yourself for the rock scramble to come.
7.  It took us seven minutes to reach the yellow-blazed start of the Bonticou Ascent Path, perhaps the coolest trail in the Hudson Valley, on the left.  Take this left turn to head downhill to the start of the scramble.
**UPDATE August 2020**  The Bonticou Ascent Path's blazes were yellow for many years, but have apparently been re-blazed to be RED now.  (Thank you, Jeff, for the heads-up in your comment below!)  I will update the relevant wording in the trail guide below, though I'm afraid my pictures will still show the old yellow blazes.) 
8.  In one minute, pass over the intersection with the Northeast Trail.  (If you wanted to bail on the rock scramble, you could take a left on the blue-blazed Northeast Trail, head past an intersection with the red-blazed Cedar Trail, then take a right onto the yellow-blazed Bonticou Ascent Trail to hop up on top of the cliffs without having to do the scramble.)  To do the scramble, just keep heading straight on the Yellow Red Trail, and you're there in a few more steps.
9.  Follow the yellow red blazes as they lead you up, up and up.
10.  Clamber over the huge rocks and pull yourself up through the little chimney, stopping occasionally to remark, "Really, that's the trail?" as you follow the yellow red blazes.
11.  Never mind the buzzards.  They'll get their lunch some other way.  Also, bonus points if you locate the rock that gives a perfect profile of Abraham Lincoln (without the hat.)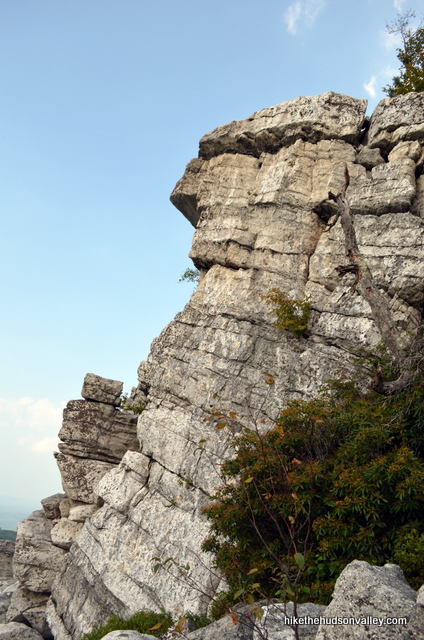 12.  It took us about 20 minutes to do the whole scramble.  And when you get to the top, man, those views.
13.  Take a right at the top of the cliffs to explore a bit beyond the Yellow Red Trail.  These open clifftops with views in all directions are a great place to sit and grab a snack.  Take a few minutes to soak it in.  (Update 9/30/2014: Check out this great photo sphere image of the view at the top of the Crag, taken by Dan Novin and submitted on the site's Facebook page.)
14.  When you're done admiring one of the best views in the Hudson Valley (or anywhere else), head back towards the Yellow Red Trail, where you'll find the start of the Yellow Trail, which you want to follow down to the right of the scramble, through the pine forest.  (**Update August 2020** The remainder of the trail guide should once again match my pictures, as this section of trail is indeed still blazed yellow, as it was during my visit.  Thanks again for your helpful comment, Jeff!)
This is a much gentler route than attempting a descent of the scramble, and as a bonus, it takes you toward Table Rocks, a mere 2.5 miles from here.  (It's worth it, really.)
15.  Keep following the Yellow Trail as it gently descends.  In about fifteen minutes, the Yellow Trail dead-ends into the blue-blazed Northeast Trail.  Take a right onto the Northeast Trail and follow those blue blazes.  (Careful here!  One person in the comments below reported missing this turn, going left on the Blue Trail instead of right and missing Table Rocks altogether.  If you do miss this turn and come to a Red/Blue junction down the hill, a quick backtrack to the end of the Yellow Trail – marked with three yellow blazes – should set you back on course.)
16.  In about 20 minutes, some more nice views open up to your left.  Stop for a moment to check them out.
17.  About ten minutes after those views, you'll come to the end of the Northeast Trail.  Here, you'll take a left onto the red-blazed Clearwater Road.  You're now in a much less-used area of the park.  Enjoy the solitude, which can be tough to come by at Mohonk.
18.  About five minutes down the Clearwater Road, you'll come to an unmarked fork.  (Unmarked as of late summer 2011.)
If you look very carefully, you'll see an old red blaze on a tree to the right.  (Update 5/7/2015: According to Jim's comment below, this is now a well-marked intersection with red blazes all up in your grill.  Awesome – and thank you, Jim!)
Take a right here to stay on the Red Trail.
19.  In another couple of minutes, you'll see the Farm Road joining you from the left, with some educational signage by the trail.  We'll come back to this point after visiting Table Rocks.  For now, keep heading straight.
20.  As you keep heading straight, the blazes become blue, and you're now on the Table Rocks Trail.  From the intersection with the Farm Road, it's another mile out to Table Rocks.
21.  After about fifteen minutes, keep an eye out on your right for the Table Rocks Trail sign, where you'll turn left to visit the rocks.
**UPDATE January 2020**  On December 21, 2020, a 71-year-old hiker tragically died at Table Rocks after slipping and falling down a 50-foot chasm here.  If you are visiting in wet/icy/snowy conditions (and really any other time, too), please exercise extreme caution here.  
22.  Wander out onto the rocks, being careful not to fall into any of the numerous chasms.  If you brought some snacks, this would be a choice place to relax and eat 'em while you take in yet another view.  Wander down the rocks as far as you dare – it's a little scary hopping over those cracks when you can't see how deep they go.  Best estimate: very, very deep.
23.  After you're done checking out Table Rocks, head back to Table Rocks Trail, where you'll turn right to retrace your steps back to the intersection with Farm Road.
24.  We'll be taking Farm Road all the way back to the parking lot, which is easier said than done.  Turn right to begin heading down Farm Road.
25.  Almost immediately, the blue-blazed Table Rocks Trail splits off to your right.  Keep left to stay on Farm Road.
26.  In another minute, emerge into a meadow with an unmarked fork, where you'll keep to the left to stay on Farm Road.
27.  In another minute, a yellow-blazed Ski Loop Trail departs to your left.  Shortly thereafter, you'll see the Ski Loop join you again at a fork in a meadow.  Keep right at the fork to stay on Farm Road.
28.  Two more minutes, and you'll pass another intersection with the Table Rocks Trail.  Keep heading straight, and just after that intersection, Farm Road hooks to the left as an unmarked trail joins you from the right.
29.  In about five more minutes, you'll see the Slingerland Pavilion (nickname: the King of Gazebos) on your left.  Stay on the road that hugs the edge of the pavilion, passing it on the right, and in a moment, you'll wander past some fancy, Mohonky outhouses on your left.
30.  One minute past the outhouses, go right at the fork, then take another right when the right fork dead-ends in a moment.
31.  You'll start seeing some "Exit here" signs along the road, and you want to follow those back to the parking lot.  You'll take a right, then a left, following the exit signs.
32.  Just a couple of minutes after you take that left turn, the spot marked "Million Dollar View" on the official Mohonk map will come up on your right.  Take some time to enjoy it, and maybe grab a seat in the grass for a few minutes.  The Catskills won't mind if you stare at them.
33.  If you're visiting the Million Dollar View at sunset, a million dollars might seem like they're not charging enough.
34.  When you're done getting your money's worth out of the Million Dollar View, proceed another minute down Farm Road to arrive at the parking lot on your right.  Now would be the appropriate time to start planning your next visit here.
Directions to the trailhead: From the village of New Paltz, head west on Route 299.  Just past the bridge over the Wallkill River, turn right on County Rd 7 (Springtown Road), towards the Mohonk Mountain House.  In half a mile, veer left onto County Rd 6 (Mountain Rest Road).  Follow this road up and over the hill, past the Mohonk Mountain House parking area on your left and under the little overpass.  Almost exactly one mile past the Mountain House, turn right onto Upper 27 Knolls Road (also marked with Spring Farm Trailhead signs for the Mohonk Preserve.)  Follow this road to the guard shack, where you'll pay your entrance fee and pick up a map.  Park on the left in the main lot, just past the shack.
You can also get directions by checking out the Bonticou Crag + Table Rocks entry on the HiketheHudsonValley.com Google map.
Sorta nearby address for your GPS:  The address for the Mohonk Mountain House is:
1000 Mountain Rest Road
New Paltz, NY 12561
From there, just keep heading north, going under the one-lane bridge to Upper 27 Knolls Road on your right in about a mile.  Continue to the guard shack, pay, and park on the left in the large lot.
GPS coordinates of parking area: 41.7959, -74.12706 (Clicking will open in Google Maps or the Apple Maps app, depending on your browser/device.)
Super-cool Google Earth flyover of hike route:
Google Terrain Map of hike route:
Related resources:  If you're looking for actual facts and/or useful information, visit these resources:
Want to support trails in the Hudson Valley? Here's one great way: Visit the New York-New Jersey Trail Conference homepage and click on Volunteer, Donate, or Shop! (Then you can volunteer, donate, or shop, depending on your mood.)