Background
If you find this free trail guide useful, please provide payment by picking up at least one piece of litter on your hike. Cha-ching! Thanks for being awesome! (And here's a quick primer on Leave No Trace, too, to help us keep the trails nice and fresh for each other.)
Background you can feel free to skip: Facebook is a funny thing. It can suck away precious hours of your life that you should be spending doing actual stuff, but it can also introduce you to amazing new hikes (and funny cat pictures) that you might never have found otherwise. Thanks to Chris Fraley's photo posting on Hike the Hudson Valley's Facebook page with the caption: "The amazing view from Popolopen Torne looking toward the Bear Mountain Bridge and Anthony's Nose," I realized that Popolopen Torne needed a visit, as immediately as possible.
Thank you, Chris Fraley! (And Mark Zuckerberg.) The hike to Popolopen Torne is insanely beautiful, and my only regret is that I've lived here for 14 years without visiting sooner.
The only minor bummer about this hike is the road noise that accompanies you for a good portion near the beginning, since the trail parallels the very busy Route 6. But what this hike lacks in a deep-wilderness vibe, it more than makes up for with its pleasant trails and off-the-hizzle views of the Hudson River and Bear Mountain Bridge far below.
Most of this trail is fairly tame, with the major exception of the very steep climb up to Popolopen Torne (you can also just call it "the Torne" like many locals do, since there aren't too many other tornes around here). Be prepared to use your hands. I don't know how steep an average torne is, but this one means business.
A warning to skimmers:  To successfully replicate the journey detailed below, you'll need to very carefully navigate several turns on many different trails.  PLEASE do not skim these instructions, especially if this is your first time here.  Also, if you have any ideas for updates to this trail guide to keep others from getting lost, please let me know — it seems to be a recurring problem here.  (Just in case you skimmed this warning, the gist is that you'll almost definitely get lost here if you skim this trail guide.)

Note for dog people: My medium-sized pooch didn't need any help to get up these spots, but I was surprised she didn't. There was much scritch-a-scritch-a-scritching for her to scale some of these places, where she would look at me as if to say, "Say what now?" before plowing onward and upward. A friend of mine reported that his German Shepherd didn't like this part of the hike, either, but that she also successfully navigated it. This hike won't be for every dog – if you have doubts about how she'll do, it might be best to leave her at home until you can scope it out for yourself.
Continuing notes for humans: Some comments on the New York-New Jersey Trail Conference online guide for this hike mention the difficulty in following the blazes here. It seems this hike has developed a bit of a reputation for being tough to navigate. Perhaps there has been new blazing done recently, though, because I found it to be very clear, with a couple of minor exceptions (I'll spend plenty of time pointing the way in the trail guide below). Overall, the trails here are very amply blazed, and as long as you stay alert, you shouldn't have any trouble. Besides, you know, that mountain you're climbing.
If you've never given this hike a try, I highly recommend it. It's likely to be the finest torne you'll visit all year.
**UPDATE October 2014** I wish I'd thought to visit the Popolopen Creek Suspension Footbridge while I was here, which can be accessed via a short trail directly behind the Fort Montgomery Site, and which connects across to the Bear Mountain Trailside Zoo on the far side.  This is a quintessential Hudson Valley site — in fact, if you do a Google image search of "Hudson Valley," that bridge (or the view from it) shows up in several of the images.  Bing.com even featured an image of that bridge and the Bear Mountain Bridge on its homepage on October 17, 2014.  It would be trail-guiding malpractice not to mention it, so now it's mentioned!  Hope you can visit this very cool place while you're here, and I'll have to check it out next time.
Bonus logistical caution: At the trailhead (directions at the bottom of this guide), a posted sign says that the parking lot closes at 5pm. Dude, no dawn to dusk? Bummer, but you'll need to plan accordingly.
**UPDATE** Bonus addendum to the bonus logistical caution: If you need to return to your car after 5pm, or if the main lot at Fort Montgomery is full, there's additional parking if you head north on 9W for .3 miles, on the right-hand side. Thank you for cluing me in with your comment, Dewan! And for this link to a Google Map picture of the additional lot!  (Oh no!  I had to rebuild this page to fix a mobile formatting problem, and it deleted the comments.  Sorry, commenting people!  Problem's fixed now, won't happen again.  Good thing Dewan also commented on Facebook, too.)
**UPDATE April 2016** A parks director at the Fort Montgomery site wrote to me asking to advise hikers NOT to park in the Fort Montgomery parking lot, but in the lot that Dewan mentioned above.  PLEASE heed that advice and park in the hiker lot .3 miles north of the Fort Montgomery site on Rt 9W, on the right-hand side as you're headed north.  No more worrying about that 5pm deadline – woo hoo! 
**UPDATE June 2020** Friendly hiker Sandy reported below losing cell service on this hike, no longer being able to access this page, and having to call a park ranger for help.  The ranger said that this happens on a daily basis!  (Just reading that comment gave me hives.)  Please see the "Bonus unsolicited advice" at the beginning of this trail guide for instructions on downloading this trail guide to your phone before your hike, so that you won't be depending on cell service out there.  
Trail Guide
Bonus unsolicited advice: Don't depend on having cell service in the woods - it can be spotty out there! Download this trail guide to your phone before you head out. (It's easy to do on iPhone and Android.) May your connection to nature be strong, even when your connection to the internet is weak.
**UPDATE October 2023** The hike as outlined below is no longer possible, due to the bridge in Step 13 being washed away and wrapped around a tree downstream.  Yikes!  (Thank you to Dexter for the helpful comment and crazy photo below.)  You can complete a much shorter version of this hike by parking at Step 18 and climbing straight up to the Torne and back down.  According to Fleitan's comment below, searching on "Popolopen trail head" in Waze will take you right to this small parking area on Mine Road, and you can then follow from Step 18 – I just confirmed that this also works in Google Maps.  And if you're reading this in the future, and you happen to know that the bridge has been replaced, please let us know!  Or do we all have jet packs in the future and we can just fly across the stream?  Either way, let us know!     
**UPDATE July 2017** Several comments from friendly hikers at the bottom of this page mention construction on the Rt 9 W Popolopen Bridge – that construction is now complete, and won't hassle you any longer.  I've removed about 17 updates from this spot that gave some workarounds that fortunately are no longer necessary.  Happy hiking out there!
1. **UPDATE April 2016** Since the Fort Montgomery folks asked us to start parking in the hiker lot just north of the Fort Montgomery site, you can skip this step and pick up the trail guide on Step 2 — just stroll to the entrance to the Fort Montgomery site and we'll all be on the same page again.
From the parking area at the Fort Montgomery State Historic Site (see "Directions to the trailhead" below), walk back up the driveway toward Rt 9W, passing the stone staircase and trail blazes for the combined Blue (Timp-Torne)/1777W/1779 Trail (say that five times fast). You'll be ending your loop today by coming down that staircase with a head full of awesome new memories. For now, keep heading up the road until you get to 9W.
2. Let's begin our day in nature by walking along a very, very busy highway, just like Thoreau would have done. Have no fear – we're only on 9W for a short stretch, and that stretch is mostly comprised of a scenic bridge walk with a pedestrian lane.
You want to turn left onto the very busy Rt 9W here — the trail turns into the woods on the far side of the bridge, on the other side of the road. I recommend crossing the street here, before the bridge (if you can do so safely), then turning left to walk toward the bridge, since the road looks a little tougher to cross after the bridge.
When you can safely cross the street, turn left onto Route 9W, then cross over Popolopen Creek, which you'll be seeing much more of today.
3. After you cross the bridge, just after the guard rail ends, on your right, you'll see a "NO PARKING ANY TIME" sign, with the three red-and-white blazes of the Popolopen Gorge Trail (henceforth referred to as the Red Trail) just behind it.
Turn right here to hop on the Red Trail (this turn is very easy to miss – keep a sharp eye out!). Adios, Rt. 9W! Thanks for the good times, and don't let anyone tell you that you're the poor man's I-87. I-87 is the poor man's 9W.
4. You'll be on the Red Trail for the next 1.6 miles (this 1.6-mile stretch will take us all the way to Step 12 below, since the Red Trail can be a wily one), during which you'll gain 453 ft and descend 213 ft. Be very careful not to get bucked off onto unmarked trails (there's one immediately after the hike begins, where you'll take the right fork to stay on the Red Trail).
In another minute, cross under some power lines and take a gander as they descend down toward Popolopen Creek.
5. Just after the power lines, the trail brings you to a small clearing high above the creek, then takes a sharp left turn to begin your first climb of the day. Here, as with everywhere else on this hike, pay special attention to the Restricted Area signs. West Point's property adjoins this land, and you don't want to star inadvertently in any of their drills.
Going up!
6. Keep following the Red Trail as it joins the creek and ambles along beside it. You'll pass a fire circle just beside the trail (unless it's been removed since my last visit on 8/9/2014), then enjoy some more quick climbs as you venture away from the creek (and toward Rt 6, a bad trade in my opinion).
7. Five minutes after the fire ring, the trail takes a hard uphill bend to the left, marked with two blazes and a small cairn (fancy talk for pile of rocks).  Careful here!  An unmarked trail continues following the creek, which is the way you'd go if you weren't carefully playing a game of "Find the Next Blaze."  Keep on the lookout for the two blazes marking that hard bend to the left!   (One hiker reported missing this bend, and also noted that there are multiple fire rings out here. Keep your eyes peeled for the two blazes that mark the turn, and beware the siren call of the unmarked trail!)

8. Toward the top of the next rise, you'll turn left to continue following the blazes. In another moment, take a right to keep following them, ignoring the siren call of the unmarked trail.
9. Shortly after that right turn, the trail winds past some cool rock formations.
Dare you to stick your hand in there!

Just kidding. Please don't do that.
10. Along this stretch, you will need to test your Jedi sense-focusing abilities on ignoring the road noise from Route 6, which you can see at times through the trees. Just keep on motoring and ignoring the actual motoring.
About five minutes after the cool rock formations, you'll arrive at a fork in the trail with no obvious (as of August 2014) blazes to be seen. Take the downhill fork to your right and you'll start seeing blazes again in just a moment.
11. In another moment, you'll pass some, uh, concrete things that look like they could serve as a set for the upcoming movie The Ring III: The Rectangle. Samara, are you in there?
12. Just a few minutes after the last concrete doohicky, you'll come to the Trail Junction of a Million Blazes. Keep an eye out for this junction! It's very well-marked, but you could easily stroll right past it if you weren't paying attention.
Here, the Red Trail continues straight ahead, joined by the 1777W and 1779 Trails, and also the Blue (Timp-Torne) Trail. Don't go that way!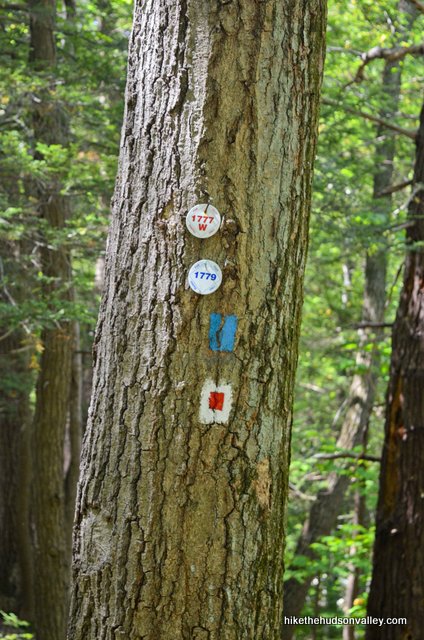 This is where we bid adieu to the Red Trail, and turn right to hop on the 1777W and 1779 Trails, which are also joined by the Blue Trail (though I didn't notice any blue blazes until a few yards down the trail).
13. Head down the hill to find a very cool bridge crossing Popolopen Creek.
From the NY-NJ Trail Conference guide for this hike: "This prefabricated bridge was installed in 2012 by a volunteer trail crew from the New York-New Jersey Trail Conference, replacing a similar bridge that was severely damaged in 2011 by Hurricane Irene."
Thank you, NY-NJ Trail Conference and your volunteers! For everything, really, but in this particular instance, for this awesome bridge.
14. Ready for some climbing? From the bridge, it's .5 miles and 586 vertical feet to the summit. Follow the markers on the far side of the bridge to climb some stone steps, emerging onto a wide, flat trail.
Turn right onto the 1777W/1779/Blue Trail to continue following the blazes. (And if you happen to notice a stray red blaze out here, you can ignore it. I think it wandered here by accident.)
15. Almost immediately (within one minute), look for the Blue Trail to intersect the many-blazed monster you're currently walking on, heading uphill to your left and downhill to your right. ("But I'm already on the Blue Trail," you might be saying. Shhhhhh. Let's not overthink this.)
Turn left to follow the Blue Trail uphill, leaving the 1777W and 1779 trails (and all their excess syllables) behind.
16. In a couple minutes, cross over a gravel road, following the Blue Trail straight across.
17. The final obstacle before the rock scramble up to the Torne is the guard rail that you have to limbo under to arrive on the paved Mine Road (this road is blocked to traffic on both sides of this spot, so I'd be surprised if you saw any cars here).
First you spread your limbo feet, then you move to the limbo beat. How low can you go?
18. Hop across Mine Road and steel yourself for the climb to come. Just keep following those blue blazes. Going up!
19. Less than ten minutes from Mine Road, you start to get your first hint of a view.
More where that came from! But first, up, up and up.
And then, after about fifteen minutes of strenuous climbing from Mine Road, the hint of a view becomes the real thing.

Stroll along the awesome clifftop vantage point and take it all in. This is not the summit, but it is still a money spot in its own right. Take a break here or keep trekking to the summit. (You still have one more money spot before the summit, too.)
20. A few more minutes uphill and boom! 'Nother money spot.
Know what's wrong with this place? Nothing.
21. One more short climb to the actual summit. When you get to the top, you'll know it.
Popolopen Torne's summit is marked with two stone benches and a stone monument. You'll find out more about these memorials on a kiosk you'll pass on your way down. (Images of the write-ups here and here, in case you'd like to read them now.) From that kiosk: "These rocks were carried from the bottom and stacked here as a tribute to American soldiers now serving on the Frontier of Freedom. To their safe return."
I'm sure this goes without saying because you are an awesome person, but some less awesome people have apparently taken souvenirs from this monument. Please don't be one of those people.
The two benches are dedicated to West Point graduates who were killed in action in Afghanistan.
MAJ Thomas "TK" Kennedy: Obituary, Military Times tribute
1LT Daren M. Hidalgo: News story, Military Times tribute
We'll get back to the trail guide in just a moment, but this is a great opportunity to take a moment to think about, well, whatever you think it's important to think about right now.
UPDATE: Per this comment on the Facebook announcement of this trail guide going online, here's some more information about the origin of these benches and some other excellent trail work on this hike: "The new cedar kiosk, trail blazing, 2 new granite benches and QR codes on the benches were part of my son, Grant Thomas', Eagle Project. It's a wonderful hike!  … Grant was able to name the trail "The Trail of the Fallen" which is how many of us refer to it. I'm happy to see this article. Below is the link to his fundraising for the Eagle project."  [The fundraiser is now closed, but follow that link to see more pictures of the project, and to get an idea of how much work went into all of this.]  Wonderful work, Grant! 
22. This is the part where you sit down, eat a granola bar, and say, "Wow" or "Duuuuude" or something to that effect. Don't forget to check out the view behind you, too.
Also, don't forget to water your dog (if applicable).
23. When you're done soaking in the solemn and gorgeous awesomeness of this place, wander around the stone monument (so that it's between you and the benches) to pick up the Blue Trail again, which heads down a wide-open rock face.  (If you have trouble picking up the blazes, the Blue Trail continues almost straight across the Torne, coming down directly opposite the way you came up, before heading down the right-hand (eastern) side of the hill.  You should be able to pick up the blazes again just on the far side of the monument.)
24. Continue following the blue blazes down through the pitch pines and steep rock faces. Watch your step! Over the next .7 miles, we're going to descend 550 feet.
When you see KEEP OUT signs around here, you know, keep out.
Also, careful not to get bucked off on any unmarked trails – keep following those blue blazes down, down, down.
It took me twenty minutes to emerge beside a kiosk onto the paved Mine Road. Here, you can stop for a moment to read more about the monuments up on the Torne, and the caring people who put them (and this kiosk) here.
When you're done reading, turn left (assuming you're coming down the trail, with your back to the kiosk) to head downhill on the paved road.
25. In just a moment, you'll arrive at a parking area on your right (you can park here for a much shorter route to climb the Torne, if you're looking for the Clif's Notes version of this hike).
Turn right into the parking lot, then follow the gravel road that heads out of the back-right corner of the lot to stay on the Blue Trail. You'll walk around the gate (notice the blue blaze on it) to proceed.
Just after that gate, the Blue Trail departs the gravel road, descending down the bank to your left. That's where you want to be. Turn left off the gravel road here to stay on the Blue Trail.  (UPDATE November 2016: Thanks to Tasi for the helpful comment on this section — the sign pictured below has been moved further down the trail, where it makes much more sense.  You should no longer see the sign as it is pictured here – you'll turn off the gravel road before reaching it.  Thanks, Tasi!)
26. After a short descent, turn left to stay on the Blue Trail when it widens and levels out, rejoined from the right by the 1777W and 1779 Trails. Hello again, Popolopen Creek! Enjoy this flat stretch of easy traveling as you mosey high above the burbling water – it'll be just under one mile before you need to worry about any more turns.
27. I see you back there, you turkeys! (If you don't see any turkeys right now, you can skip this step.)
28. About fifteen minutes after the 1777W/1779/Blue Trail junction from Step 26 above, you'll find a wide unmarked trail crossing your path. Continue straight here to stay on the 1777W/1779/Blue Trail.
29. Is that a house over there? Yup, it's a house. How did a house get out here in the middle of the wilderness? Answer: It's not the wilderness. Just a moment after that seemingly out-of-place house, you'll pop out onto the paved Mine Road once again – this time, the road is open to traffic, so be careful. Hi there, civilization!
It's not entirely obvious which way to turn onto Mine Road. The correct answer is right – turn right onto Mine Road, and stay on it past Wildwood Ridge, which departs to your right, and Camp Road, which departs to your left. You'll see the Blue Trail/1777W/1779 markers on the occasional phone pole to let you know that, indeed, you are still hiking, not power walking.
30. This road section takes less than five minutes. Keep an eye out on your left for your entry point back into nature, which is marked on a short pole with the familiar 1777W/1779/Blue Trail blazes. Turn left here to hop back on the trail and get some dirt back under your feet.
31. Follow the trail into the woods, and in just a moment, you'll start to get a glimpse of Brooks Lake down through the trees.
32. At the bottom of the hill, it's decision time! You'll arrive at a many-blazed trail junction where you can go left or straight/right.
If you choose left, you'll take a 1-mile, flat stroll around Brooks Lake. On the far side, you'll wander across a town park, complete with ball fields, gazebo and porto-potty (score!).
If you turn straight/right here, you can cut off that extra mile entirely (this hike is 4.7 miles total without the loop, 5.6 miles with).
The loop around the lake is pleasant, but not earth-shattering. (This body of water must have a good publicist – I might have called it a pond.)
I'm glad I went around the loop during my first visit, but if I were to come back, I'd probably skip it.
I'll give the loop below as an optional step. If you choose to skip it, go right/straight across the little boardwalk here, then meet us down at Step 34 (you'll hit the next trail junction very soon – within a minute or two. See you there!).
33. Optional step: Stroll around Brooks Lake.
Okay, wild person, let's do it! Turn left at the junction to hop on the red-on-white-blazed loop around Brooks Lake.
Enjoy nature's beauty.
And humankind's contributions.

About two-thirds of the way around the loop, you'll find some actual very nice contributions from humankind, in the form of a picturesque lakeside park.
Continue hugging the shore of Brooks Lake as you pass a kiosk, hop on a gravel road, and pick up those red-and-white blazes again. Head back into the woods where the gravel road runs between two boulders.
The old concession stand has seen better days, hasn't it? (Actually, I have no idea what that building used to be, but one thing's for sure: You'll have to get your Fun Dip elsewhere.)

Stroll beside some bull rushes and boom! On your right, you'll see a couple of trees with many blazes. That's the end of the Brooks Lake loop.
We're right back to where the lazy people who didn't go around the lake will meet us. (It's okay, we can call them lazy – they're not even reading this part.) Hope you enjoyed your stroll around the lake!
34. Hello again, people who didn't walk around the lake — we were just talking about you! All good things, all good things.
From this junction, you want to go straight/left if you're coming from the lake loop, or right if you skipped the loop.

35. In a minute, arrive at another paved road. Turn left and follow the road for a few moments.
36. On your right in a minute or less, turn right to stay on the Blue/1777W/1779 Trail.
37. In a couple of minutes, arrive at a mildly confusing fork. Take the left option here to stay on the trail. The right fork goes somewhere you're not supposed to be.
38. In another minute, pop out onto another road, with an old park building in front of you. Turn right to walk along this road for just a minute. (When I was here in August 2014, there was some construction machinery parked at this junction. If you're a five-year-old and those machines are still there, welcome to your favorite spot on this hike.)
39. The trail blazes are posted on phone poles along this stretch. When a driveway joins you from the left, notice the blazes on the phone pole on your left. They're telling you to turn right, following the trail into the woods. (I missed this turn and had to backtrack. May you be spared the same fate.)
40. Follow the blazes (and Lyme disease warnings) for another couple of minutes before arriving at a fork with a posted sign (Left: West and Round Hill Redoubts; Right: Visitor Center). Choose the right-hand option to return to the Visitor Center.
41. The trail takes you right underneath the Route 9W bridge. Pretty cool, but watch out for bridge trolls!
42. Two minutes or so after the bridge, boom! You've closed the loop.
Hello again, Fort Montgomery Historic Site, and thanks for not locking up our car in here!
Hope you enjoyed the Torne! Bonus points for every time you manage to say "I have Popolopen Torne it up" for the rest of the day.
Directions to the trailhead:
From the Bear Mountain Bridge heading west, enter the traffic circle just after the bridge. Take the exit for Route 9W north, then immediately cross Popolopen Creek on the 9W bridge. In just a few more seconds, take your first right into the Fort Montgomery State Historic Site.
Head down the driveway to the parking lot, grab a spot and let the adventure begin!
You can also get directions by checking out the Popolopen Torne entry on the HiketheHudsonValley.com Google map.
Sorta nearby address for your GPS: Here's the address that Google gives for the Fort Montgomery State Historic Site:
690 Rte 9W
Fort Montgomery, NY 10922
Putting this address into your GPS will land you almost within eyeshot of the actual site – on Google Maps, that address shows up .5 miles north of where you want to be. If you go to that address, just keep an eye out for the huge Fort Montgomery sign just north of the bridge over Popolopen Creek on Rt 9W, and you should be all set. (As noted above, per Dewan's Facebook comment, there's additional parking — without the 5pm restriction — just .3 miles north on 9W, on the northbound right-hand side, should you need it. Good option to be aware of — thank you, Dewan!)
**UPDATE April 2016** The Fort Montgomery folks have asked us (as detailed way up above) to park in the lot just north of the Fort Montgomery site.  I've updated the GPS coordinates below to match that lot.  Please plan to park there, not in the Fort Montgomery lot, so that there will be enough spots for everyone.  Thanks, awesome hiking people!
GPS coordinates of parking area (these should take you straight to the right spot): 41.32832, -73.98745 (Clicking will open in Google Maps or the Apple Maps app, depending on your browser/device.)
Super-cool Google Earth flyover of hike route:

Google Terrain Map of hike route:

Related resources: If you're looking for actual facts and/or useful information, visit these resources:
Want to support trails in the Hudson Valley? Here's one great way: Visit the New York-New Jersey Trail Conference homepage and click on Volunteer, Donate, or Shop! (Then you can volunteer, donate, or shop, depending on your mood.)