Background
**WARNING** While most Hudson Valley parks and trails have reopened, there are still a few notable closures and parking restrictions to be aware of. Before heading out for your next adventure, please check my Hudson Valley trail closures and parking restrictions due to COVID-19 page to make sure that your intended destination is open. I'll do my best to keep that page as up-to-date as possible. The New York-New Jersey Trail Conference offers concise, excellent advice on hiking during this crisis here: The New Hiking How-tos. Please read it before heading out into the wild green yonder, and let's hope that everyone will adhere to that guidance so that we can keep heading in the right direction in the Hudson Valley. Hang in there and stay safe, everyone! I very much look forward to deleting this warning someday.

And also! From here on out, 50% of the proceeds generated from the purchase of sweet custom gear from Hike the Hudson Valley's online store will be donated to the NY-NJ Trail Conference, the organization that makes so many of our adventures possible. Look sharp out there while supporting the trails! Or just wear whatever you have already. That's cool, too.
**Update July 2018** The parking lot at Mt. Beacon is open (and improved!) after a brief closure for construction in early 2018.  See this Scenic Hudson article for more details: Parking Improvements at Mount Beacon Park to Enhance Enjoyment of Popular Hudson Highlands Hiking Destination.  And thanks to Noelle for dropping a comment below to let us know that the parking lot is open again!
Background you can feel free to skip:  When my old hiking group used to climb Mt. Beacon, our usual path took us on a bunch of deer trails, which was, as far as we could tell, exactly what our trail book was telling us to do.
"Are we lost?" new hikers would always ask as branches slapped them in the face.
"Not really," I'd reply, heading in the general direction of the decrepit old fire tower that didn't have any stairs, following in the hallowed hoofprints of the furry souls who blazed those barely visible trails.
Fortunately, Scenic Hudson and the Mount Beacon Incline Railway Restoration Society have made that old route obsolete, and you can now traverse a very well-maintained trail system all around Mt. Beacon.  As an added bonus, the newly renovated fire tower (which reopened on June 22, 2013) now has stairs!  It's much more pleasant to climb that way.  Thank you, Mt. Beacon Fire Tower Restoration Committee and all the people who sponsored the individual stairs (especially you, CHUNK THE DOG).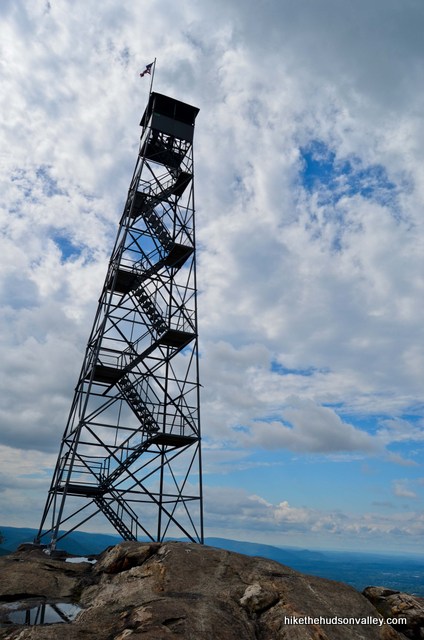 You can make your day on Mount Beacon as easy or as difficult as you'd like (assuming you'd like to climb at least 1,000 vertical feet).  To get to the first overlook at the old casino ruins, you'll have to climb about 200 stairs, then proceed around a bunch of steep, rocky switchbacks.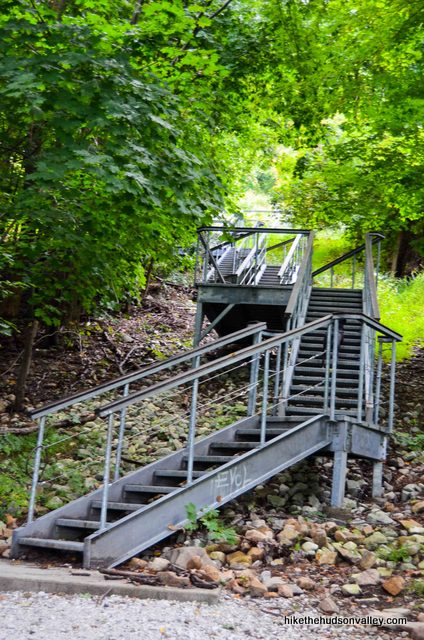 The view at the casino overlook is so awesome, you could absolutely make it your final destination.  If you headed back to your car from here, you would have bagged yourself a nice 2.4-mile roundtrip hike, complete with a righteous clifftop money spot.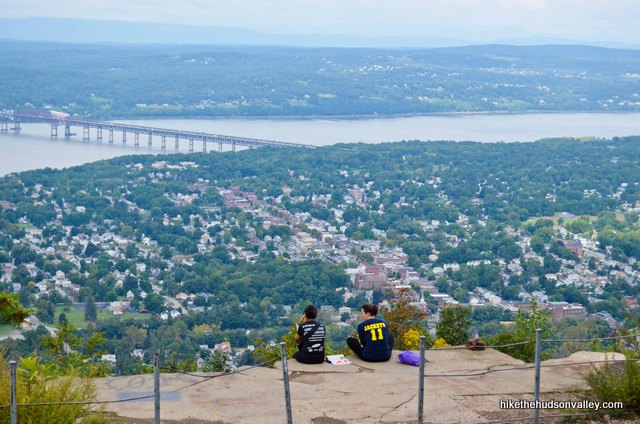 To me, though, it'd be a shame to be this close to the Mt. Beacon fire tower without paying it a visit.  That's the hike I'd recommend to most hikers, if you have enough gas in the tank for the extra 2 roundtrip miles and 500 vertical feet that it will cost you to visit the tower.
This is one of the rare fire towers around here where you have the option to chicken out and still have some awesome views.  Not AS awesome, but still awesome.  Just throwing that out in there in case you like hiking, but hate heights.  There's still plenty to see here.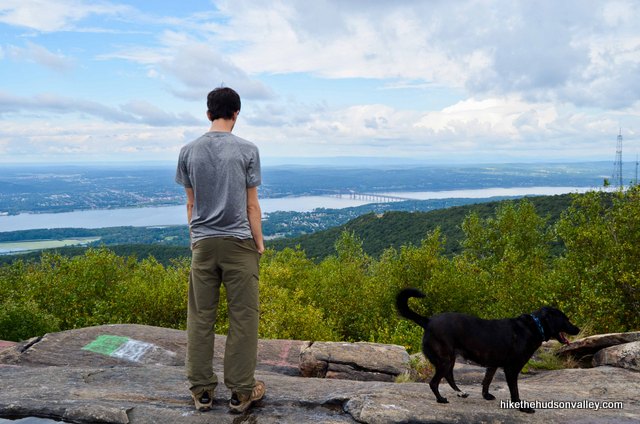 If you're feeling super-crazy-ambitious (and you're going to pay very close attention to the trail markings), you could continue after the tower over to Fishkill Ridge along the Wilkinson Memorial Trail, adding an extra 3.3 miles and 1,042 vertical feet to your day (the tower is the high point on this hike, so your additional ascent comes from the rolling hills along the rest of the loop).
For most hikers (I'm guessing somewhere around 95%), adding this additional mileage will be overkill — the best views are at the casino ruins and the fire tower.  But if you want to make a big fat loop out of your day here, there are more sights to be seen in the hills beyond the tower.
I'll write the trail guide below as if you're doing the entire beast of a 7.7-mile loop, but I'll also advise you when to turn around and retrace your steps back to your car if you're just going to the overlook or the tower, as I expect the vast majority of hikers will be doing.
However much of a hike you decide to tackle here, just be sure that you do pay Mt. Beacon a visit.  It's one of the most popular hiking destinations in the Hudson Valley because it deserves to be.
Trail Guide
If you find this free trail guide useful, please provide payment by picking up at least one piece of litter on your hike. Cha-ching! Thanks for being awesome! (And here's a quick primer on Leave No Trace, too, to help us keep the trails nice and fresh for each other.)
1.  From the parking area (See "Directions to the trailhead" below), make sure you brought all the supplies you'll need.  If not, there's always the convenience store across the street.  (Don't worry, you'll be getting into nature soon enough.  But for now – Oreos!)
Speaking of nature, if it's calling, boom, there's a porto-potty in the parking lot.  The big kind!  We know how to treat hikers right around here.
When you're done with all that, check out the informational kiosk (might as well learn something while we're here), then follow the gravel trail behind the kiosk, toward your date with altitude.
2. Walk around the wooden gate and proceed along the gravel path.  You're on the red-blazed Casino Trail right now (or heading towards it) — I didn't notice any blazes until a little further up the trail.
In this first section of trail, you'll see some inviting nature-walk-type trails intersecting from the left, but I'd recommend turning down their invitations.  You'll need all your calories to spend on the upcoming climb.
3.  Just a few minutes from the parking lot, you'll come to the ruins of the Mount Beacon Incline Railway, which was the steepest railway in the world during its operation.  Cool, right?  Also, try not to think about the fact that you're about to climb the mountain that was once home to the steepest railway in the world.
4.  Just past the ruins, you'll arrive at an impressive staircase.  If you were able to forget about the whole steepest-railway-in-the-world thing, the 200 or so metal steps here will probably remind you.
When you get to the top of the stairs, turn around to check out the modest hint of a view behind you.  Also, feel free to do the Rocky Balboa hands-in-the-air jumping thing.
5.  You'll start to see some red blazes along the trail now.  About five minutes after the steps, the Red Trail turns hard to the right, and you'll see three yellow blazes on your left, marking the beginning of the Yellow Trail.  (If you do the entire 7.7-mile loop, you'll come back to this spot via the Yellow Trail much later in the day.)
For now, ignore those yellow blazes and keep following the Red Trail, turning right and heading uphill.
6.  This area is laced with unmarked trails, sometimes from hikers taking shortcuts instead of following the switchbacks (bad for erosion, and for karma).  Keep your eyes peeled for those red blazes and don't be lured (accidentally or otherwise) by the siren call of the unmarked trail.  Beyond that, you know, just keep going uphill.
7.  About fifteen minutes from the top of the stairs, you'll arrive at an unmarked fork.  On our visit in late summer 2013, the right fork had two wooden posts in the ground, with one helpfully tagged "EVOL".  Doesn't matter which way you pick – these trails meet up again in a few feet.  I chose left.  I won't be offended if you pick right.  (But I think left is the actual trail.)
8.  About ten minutes after that unmarked fork, you might notice that things have taken a turn for the rockier.  And, somehow, for the steeper.  Just keep on chugging.
Historical curiosity: The Mt. Beacon Incline Railway was once the home of the real-life Little Engine That Could.  You think you can, you think you can.
9.  From the unmarked (except by EVOL) fork, it took us about 15 minutes to reach the upper ruins of the Mt. Beacon Incline Railway.  Follow the trail as it hooks right to visit the ruins, where you'll get your first real taste of a view for the day.
10.  Have a look inside the ruins and check out the views and the old railway machinery.  The real estate listing for this place: Charming brick Cape Cod with breathtaking views and excellent ventilation.  Original appliances included.  Just looking for right owner and a little TLC!  (But for real, how awesome would it be if this place was restored and back in business?  We're all pulling for you, Mt. Beacon Incline Railway Restoration Society!)
11.  When you're done looking inside, head down the stairs directly to the left of the building, then take a left to follow the path a short way to the awesome clifftop overlook at the site of the old (now non-existent) casino.
12.  Grab a seat.  Take it in.  Eat a granola bar.
13.  When you can peel your eyes away from the view, take a look at the hills behind you.  There are some communications towers looming over the trees, marking North Beacon Mountain.  And there, off to the right, up on the hilltop (South Beacon Mountain), see that teeny-tiny tower?  If you're going to the fire tower, that's where you're headed, one mile (one-way) and 500 vertical feet from here.  Up for it?
If not, retrace your steps back to your car from here, carefully following the Red Trail the whole way down.  Hope you enjoyed the trip!  You may not be visiting the fire tower today, but you'll get the last laugh – when the rest of us are stumbling back down the hill later today, you'll already be polishing off your last slice of post-hike pizza.  Bon appétit!
14.  Oh, you're heading to the tower?  Excellent decision.  Let's do this thing.
We're going to continue following the Red Trail toward the tower.  To pick up the scent of the Red Trail again, walk across the old casino grounds toward the tower.  On the far side of the clearing, you'll find a red blaze on a large tree that's standing by itself.  **UPDATE November 5 2014 **  According to Beatrice's comment, that red blaze (pictured below) is no longer there, and is now on a smaller tree further back.  Thanks for helping to keep this guide current, Beatrice!
Just past that tree, if you're anything like me, your dog will take a dip in a disgusting giant puddle.  Ah, how refreshing.  Then you'll take a right to hop on the well-marked dirt road that'll bring you closer to the tower.  As always, ignore any unmarked trails (there are plenty of them out here) and follow the red blazes.
15.  In less than ten minutes from the casino clearing, you'll come to the best-marked intersection of the day, with a large sign pointing toward CASINO SITE, back the way you're coming from.  Across the intersection, notice the FIRE TOWER sign.  That's your huckleberry.  Continue straight across the intersection to keep following the Red Trail toward the tower.  (UPDATE 4/21/2015: According to Mandy's comment below, the signs may no longer be there.  If that's the case, never mind about this being the best-marked intersection, but you'll still head straight across the intersection to pick up the red blazes on the other side.  Thanks, Mandy!  UPDATE 7/25/16: Per Rafael's comment below, I should explicitly state that "straight" means the little red-blazed trail that dips downhill straight ahead, not the larger unmarked road that climbs the hill to your left.  Thanks, Rafael!)
16.  Just a couple minutes after the well-marked intersection, no more Mr. Nice Road.  The Red Trail becomes an actual trail again.  Oh yeah, we're climbing the tallest mountain in the Hudson Highlands.  Almost forgot.
After some steep climbing, you'll pop into a clearing (it took us nine minutes to get there from the intersection with the signage) with a clear view of the tower, which is now a good deal closer.  You're getting there!
17.  Five minutes after that clearing, you'll arrive at the (unmarked) spot where the White Trail used to ascend to the fire tower, departing up the hill to your right.  On the day I was here, this is the trail everyone was still using, including me, because, at that point, I didn't know that a well-marked reroute of the White Trail was just ahead.
The most obvious (but not that obvious) sign that you're at this spot is (as of late summer 2013) a faint blue blaze on a tree in the middle of the well-traveled path to your right.
From here, it's .2 miles and 164 vertical feet to the tower.  What you SHOULD do is continue down the Red Trail for another minute, turn right to stay on the Red Trail at an unmarked fork, then turn right onto the freshly blazed White Trail to hop on up to the tower.
I've never taken that new section of White Trail, though.  Next time!  Instead, I turned right a minute too soon (just like everyone else) and took the old, rocky, very well-beaten path up to the tower, which still bears some of the old trail markings.
It's good karma to take the actual trail – they're usually rerouted for a reason.  So, you know, whichever way you pick, hop on up to the tower!  See you there.
18.  Dude.  What a spot.
Even before you muster the courage to climb the tower, there are some awesome views to greet you as you stand atop the summit of South Beacon Mountain.  Pretty sure that was a peregrine falcon that just flew by, too.
When you're ready, take a deep breath and give that sucker a climb, thanking each of the people on the name plates for providing us some nice sturdy stairs to climb.
From up top, you'll have views of pretty much everything.  The Beacon Reservoir and Catskills to your northwest, the Newburgh-Beacon Bridge and Gunks to the west, and, to the south, the southern Hudson Highlands, and, you know, lots of other hills and stuff.
On a clear day, you can apparently see New York City from up there.  I wasn't here on a clear day.
19.  When you're done taking in the views, carefully descend the tower (I didn't need to tell you to be careful, did I?)
and retrace your steps to back down to the Red Trail, returning the way you came up.
20.  Decision time!  If you're done hiking for the day (well, halfway done), take a left on the Red Trail and retrace your steps all the way back to the casino overlook, and then down to your car.  This is the course of action I recommend for pretty much everyone.  You've seen the best views you're going to see today.  The only reason you'd continue along the 7.7-mile loop is if you really want to get into nature (you'll have much less company where we're headed next), you want to see some more nice views, and you think walking another 5.5 miles (and climbing another 1,000 cumulative vertical ft) from here sounds like a good time.
You heading back home?  That's a good call.  Hope you enjoyed the trip today!  If you happen to see CHUNK THE DOG on your way home, be sure to give him a pat on the head.  Otherwise, have a safe trip back to your car!
21.  You're still here?  You beast!  Okay, you asked for it.
If you came back down on the proper, freshly blazed White Trail, hang on a second while we wait for the degenerates who took the old way.  If you took the old, unmarked way down, turn right on the Red Trail, hang a right at the unmarked fork to stay on the Red Trail, then meet the rest of us at the junction of the Red Trail and White Trail, where we're all waiting, tapping our feet and giving you disapproving looks.
Take the left fork (it's a actually a right turn if you're coming down the White Trail from the tower) to continue on the Red Trail.
22.  In just a minute, you'll arrive at another fork, where you'll go left to stay on the Red Trail.
23.  In less than five minutes, you'll come to an intersection with three red blazes that mark the end of the Red Trail.  Thanks for the good times, Casino Trail!  At this intersection, you'll turn left to hop on the yellow-blazed Wilkinson Memorial Trail.
We'll be on the Yellow Trail for the next 1.9 miles.  Meandering along, it took us 70 minutes to reach the next junction (a left turn onto the Blue Trail, but we'll worry about that later).
24.  Just keep hoofing along, following the ample yellow blazes.  In less than ten minutes, more southerly views will open up to your right.
And then, ten minutes later, hey, more views!  This time, you're looking out over the Beacon Reservoir.
This section of trail alternates between plunging you into the woods and taking you across bare rock faces.  Look for yellow markers on the trees and painted yellow blazes (and the occasional cairn) on the rock faces.
Good rule of thumb for life in general, and especially for this trail: Keep your eyes peeled for giant spiders that hang out at the same height as your face.  I was here on September 13, 2013, and I narrowly missed catching a giant, exotic-looking spider in the face on at least two occasions.
From some web searches, it looks like these were marbled orb weavers.  If you do catch one in the face, you can take some solace in the fact that they are "harmless to people," as soon as you get done screaming.  They're also apparently busiest in the late summer, so if you're here at a different time of year, maybe you won't see any.  If you are here in late summer, another good rule of thumb: Let your hiking partner go first.
What were we talking about again?  Ah, yes!  The Yellow Trail.  Keep following it.  It took us 23 minutes from the Beacon Reservoir overlook to reach another nice, open spot with southerly views.  You can juuust make out some tiny little buildings on the horizon, very far away – if that's not New York City, it's gotta be close.
25.  A couple minutes after that overlook, alert hikers might notice the little state park boundary marker just off the trail.  Ten minutes or so after that, the Yellow Trail takes a well-marked bend to the right – don't get bucked off!  This trail takes several sharp turns in this section, but they're all well-marked.  Stay on your toes!  And on the Yellow Trail.
26.  The intersection of the Yellow Trail and Blue Trail is almost a T – the Yellow Trail turns sharply to the right and uphill, while the Blue Trail begins to your left, sloping gently downhill.  You'd probably hop on the Blue Trail by accident if you weren't paying attention to the markings – it looks like the logical way to go, and it is.
Bid adieu to the Yellow Trail here and turn left onto the Blue Trail.
27.  Here's where the logic ends.  The Blue Trail really wants to buck you off of it.  Remember that, and play, "Where's the next trail marker?" for the entire (fairly short – approx. 15 minutes) length of your stroll on the Blue Trail.
In a couple of minutes, you'll find yourself strolling beside some impressive stone walls to your left.
If you weren't paying attention, you'd follow the trail through a break in the wall in just a moment.  But, of course, you ARE paying attention, so you'll see that blue blaze on the smaller trail to your right, at the little fork.  See it?  Good!  Go that way, to your right.
28.  In two more minutes, arrive at another fork, where an unmarked trail follows a stone wall to the left.  Turn right here to stay on the Blue Trail.  (Tried to trick us there, didn't you, Blue Trail?)
29.  In about ten more minutes, you'll arrive at what was, as of late summer 2013, a 100% unmarked fork.  Well played, Blue Trail.   It took us a couple of scouting jogs to figure out which way to go.  The answer is left.
And if your eyes are really sharp, you'll see the nail with the blue fragment of what used to be a really useful trail marker on a tree to the left of the fork.  (On the back of that same tree, you'll see a nice intact blue marker that you'd only notice if you're approaching the fork from the other direction).
**UPDATE** In the forum, EdC tells us that he reported the blazing issues along the Blue Trail, and that the always-awesome New York-New Jersey Trail promptly came out and improved it.  Sweet, and thank you both!
30.  A minute after that unmarked fork, you'll arrive at a local landmark: Dozer Junction.
Here's how this junction came to be:
"Hey guys, there's a bulldozer over here.  Help me move it?"
"How about we just leave it and call this place Dozer Junction?"
"Dude!  Let's go drink some beer."
Actually, I have no idea what a bulldozer is doing out in the woods, but, you know, here it is.  Even more important — three blue blazes are also here, marking the end of the Blue Trail.  Goodbye, Blue Trail, and nice try!  You didn't buck us off, you wily devil.  But not for lack of trying.
31.  From the dozer, you might be tempted to take the wide, unmarked trail straight ahead and uphill.  On each side of that trail, though, you'll see two white blazes.  You need to hang a left onto the less-obvious White Trail here, following the two white markers on the skinny tree to the left.  See 'em?  Excellent.  Onto the White Trail we go.
32.  We'll be on the White Trail for 1.64 miles, climbing over the top of Lambs Hill and descending back towards Mt. Beacon.  We'll ascend 361 ft and descend 958 ft on this section, before we turn onto the Yellow Trail.  It took us about an hour to reach that junction from here.  Let's get to it!
Follow the amply blazed (but apparently less-trammeled) White Trail as it winds up Lambs Hill.
You'll crest Lambs Hill and descend to a nice westerly overlook of the Hudson Valley (this is the final destination of the Fishkill Ridge: Lambs Hill hike, if you ever want to come here again via a more direct route).  It took us 10 minutes to get here from Dozer Junction.  Not a bad spot for a break, if you're looking for one.
33.  After you've relaxed for a moment, continue along on the White Trail, picking your way downhill and following an old stone wall.
10-15 minutes from the summit of Lambs Hill, you may notice the Red Trail exiting to your right, with a three-way arrow on the rock to help you see this junction.
Pay it no mind, and keep heading straight on the White Trail.  Going down!
34.  Enjoy wide intermittent views as you plunge downhill.  From the Red/White junction, you'll descend 788 feet on the White Trail.
Hey, look!  There's the tower we climbed like 100 miles ago.
Keep following those white blazes as the trail twists and turns down the hill.  Don't be lured onto any unmarked trails – there are a few lurking around here.
It took us about 15 minutes from the Red/White junction to reach our next turn – you'll see a dirt road through the woods, then the White Trail dumps you out onto it.  Turn straight/left onto the road to continue on the White Trail, which joins this road for just a moment.
35.  In less than a minute, turn right to follow the White Trail as it splits from the dirt road.
36.  In about five minutes, the White Trail crosses a stream on a nice wooden footbridge.
You'll then walk past what can be a very nice cascading stream, perhaps worthy of being called a waterfall.  We visited in late summer, though, so it was more of an enthusiastic drip when we were here.
About five minutes after the footbridge, follow the White Trail as it crosses the stream again, being careful not to stroll past this stream crossing on the unmarked trail that continues straight along the right-hand bank.
37.  If applicable, when you cross the stream, say hello to your friendly neighborhood marbled orb weaver.
38.  My time estimate for the next turn is going to be WAY off.  I thought the Yellow Trail junction should have been closer than it was to that stream crossing, so I burned a bunch of time and calories investigating unmarked trails that went nowhere.  It took me 18 minutes from the stream crossing to reach the clearly marked junction with the Yellow Trail, but it should take you about half that, or less.
In any event, keep a sharp eye out for the Yellow Trail splitting off to your left – careful not to burn right past it!  Veer left here to bid adieu to the White Trail and hop on the Yellow Trail.
39.  Once you're on the Yellow Trail for a moment, you'll see the official three-blaze beginning of the trail.  We'll be on this trail for about one mile.
40.  The Yellow Trail meanders through the woods for about ten minutes before you come to a confusing T-intersection with a yellow blaze on a thin birch tree, and no indication of which way to turn.
We tried left first – that was wrong.  Turn right here to stay on the Yellow Trail, heading downhill.
(Right after you turn, you may notice the nail that once tacked a very helpful yellow blaze to that tree on the right-hand side of the intersection.)
41.  The remainder of the Yellow Trail is well-marked.  Just keep following those yellow blazes and ignoring any unmarked trails.
Enjoy the breeze rustling through the leaves, the birdsong high above, the pristine trail beneath your feet, and the rusted-out SUV stuck in the brush.
Maybe it's meant as a habitat for woodland creatures, like when they make an artificial reef by sinking a ship.  As far as local landmarks go, Discarded Woodland SUV pales in comparison to Dozer Junction, right?
In any event, just after the SUV, veer left at the unmarked fork to stay on the Yellow Trail.
42.  In another 2-3 minutes, veer left at another unmarked fork to stay on the Yellow Trail.  (We had to duck under a small birch tree here, but this may be remedied by the time you come ambling through.)
43.  Dude, uphill again?  I know, it's lame, but you'll climb less than 100 feet here.  Probably seems more like 1,000.
Just past a row of metal poles (if these are here to keep SUVs from being discarded in the woods, they might have been installed a little too late), you'll arrive at a familiar intersection from waaaaaay earlier in the day (Step #5 above): the Red Trail/Yellow Trail junction.
Choose the right fork, which heads mercifully downhill again.
44.  From here, retrace your steps from earlier in the day to follow the Red Trail all the way down.  Hello again, stairs!
And then, five minutes later, your car!  Bet you thought you'd never see it again.  You've conquered the entire 7.7-mile beast loop.  Congratulations!  You are super hardcore.  If you did this hike with other people, now is the appropriate time to high-five them.  However large or small your party is, you should probably turn around and air-five Mt. Beacon, too.
Also, if you didn't snag any Oreos before the hike, you are entitled to eat an entire column of them right now.  Feel free to cross the street and cash in.
Directions to the trailhead:  From intersection of Route 9D and I-84 in Beacon, head south on Route 9D for 2.6 miles.  Route 9D (also called Wolcott Ave. in this stretch) bends hard to the right, and you'll see Howland Ave on your left.  Just past the intersection of Route 9D and Howland Ave, you'll see the very well-marked entrance to the Scenic Hudson parking lot for Mt. Beacon Park.  Turn left into the parking lot from 9D and let the adventure begin!  (You can also turn left onto Howland Ave and then turn right into the parking lot, if that suits you better.)
You can also get directions by checking out the Beacon Mountain (Mt. Beacon) entry on the HiketheHudsonValley.com Google map.
Sorta nearby address for your GPS:  I can't get Google maps to recognize the intersection of Wolcott Ave (aka Route 9D) and Howland Ave, so let's use the address for Bob's Corner Store (right across from the trailhead) instead:
790 Wolcott Ave
Beacon, NY
The well-marked Scenic Hudson trailhead is just yards south of that address.  Rock and roll!  And thank you for all the awesome natural places to explore, Scenic Hudson!
GPS coordinates of parking area: 41.49371, -73.9597 (Clicking will open in Google Maps or the Apple Maps app, depending on your browser/device.)
Super-cool Google Earth flyover of hike route:
Google Terrain Map of hike route (beast loop): 
Related resources: If you're looking for actual facts and/or useful information, visit these resources:
Was this trail guide useful to you? Please leave a comment!
Want to support trails in the Hudson Valley? Here's one great way: Visit the New York-New Jersey Trail Conference homepage and click on Volunteer, Donate, or Shop! (Then you can volunteer, donate, or shop, depending on your mood.)