Background you can feel free to skip:  First, I'd like to apologize to New Jersey for annexing this hike into the Hudson Valley.  Putting the Surprise Lake loop (which sits in Abram S. Hewitt State Forest, just on the NJ side of the NY/NJ border) on a Hudson Valley hiking site is a little bit like claiming Bruce Springsteen as a Poughkeepsie native.  But this hike is easily within striking distance of the Hudson Valley, and it is a truly beautiful spot, so I hope any New Jersey hikers reading this don't mind that I've included it on this site.  (In exchange, when you come to New York, we'll gladly show you how to work a gas pump.  And also how to pay 60 cents more per gallon.)
I had no idea that the Surprise Lake loop existed until friendly hiker Megan dropped this comment on this site's FAQ:
"I'd love to see you do write up on the Surprise Lake loop in Greenwood Lake (technically in NJ, the real starts on the ny/nj border). It's a gorgeous hike, views of the Greenwood Lake, on a clear day you can see some Manhattan skyscrapers, the "Surprise lake", rhododendrun tunnels, another isolated mountain lake. It's a harder hike, some hand scrambles, lots of loose pudding stone, the whole loop is about 5 miles I believe, but just to the mountain peak and lake is 1.2 miles, if you wanted to turn around and retrace from there."
The timing was perfect – I just happened to be looking for a hike where I could meet my buddy Rob, who would be coming from NYC.  We were hoping to find a nice fall hike somewhere in-between, and the Surprise Lake loop fit the bill perfectly.  Thanks, Megan!
One programming note: There are two routes that make a nice loop to Surprise Lake, one approaching from the south, one from the east.  I wasn't aware of this until after I'd completed this hike, but the route Megan describes above starts at the eastern trailhead.  I chose the southern one, without realizing I was making a choice.  Looks like I need to get back out there to do a Surprise Lake, Part II!  Fortunately, the always-awesome New York-New Jersey Trail Conference has already written up the steeper, 4.1-mile loop that approaches from the east, which includes a beautiful viewpoint  overlooking Greenwood Lake (here's a photo from a nice photo blog) that the trail guide below doesn't hit.  You can't go wrong either way – the hike below follows a beautiful ridge that you'd miss going the other way – but just be aware that you have options.
**UPDATE June 2014**  The trail guide for Surprise Lake II (via Greenwood Lake overlook) is now online!  If you're only doing one Surprise Lake hike, that's the one I'd recommend, though they're both awesome.  I also added Step 16a below as an optional step, which gives directions to the Greenwood Lake overlook from this hike, adding .6 roundtrip miles, if you'd like to try it that way.  w00t!

**UPDATE December 2020**  As Justin's helpful comment below points out, this trail can get quite wet if you're visiting after/during a rainy stretch.  Bringing some trekking poles will help you keep your balance — and keep your feet dry — if you need to hop across some rocky streams.  (This wasn't an issue during my visit here, but the conditions were quite dry at that time.)
Pooch proclivity:  Much as I love hiking with her, I left my pooch at home for this one, largely because of this comment on the NY-NJTC guide, which mentioned the puddingstone here being rough on dogs' padded feet.  I'm not sure if that was the right call or not – she probably would have been fine, but the hike is extremely rocky and pretty long, so maybe I saved her lil' tootsies from getting scraped up. There are some very steep sections on this hike, but nothing that most dogs couldn't scamper right up, or perhaps easily conquer with a little boost (I didn't notice any spots where my medium-sized dog would have needed much help).  Humans will need to use their hands in a couple of spots, though.
Otherwise, once you get on top of the ridge, this hike is just a rolling up-and-down affair with a few short, steep sections thrown in to keep you on your toes.  You'll also find several cool points of interest along the way, like big fat rock formations and a rhododendron tunnel that seems to just keep on going.
Also, there's a local tradition you should be aware of: The first person in your hiking party to spot Surprise Lake has to jump out at everyone else and yell, "SURPRISE!!!"
No, not really.  The awesome scenery makes this hike festive enough on its own.  But if you do pay the Surprise Lake loop a visit, don't be surprised to find a great hike there.  As a famous Poughkeepsie native once sang, this hike will make you glad you were born in the USA (or are otherwise now located here).
Trail Guide
If you find this free trail guide useful, please provide payment by picking up at least one piece of litter on your hike. Cha-ching! Thanks for being awesome! (And here's a quick primer on Leave No Trace, too, to help us keep the trails nice and fresh for each other.)
**FIVE-ALARM TRAIL UPDATE ALERT posted October 2020!!!**  While the hike outlined below is still perfectly wonderful and valid, the blazes all changed colors this summer.  You can see the NY-NJ Trail Conference trail alert on the updates here, along with a really nice new trail map (which you can also compare against the old trail map).  Friendly hiker Jennifer verified in her comment below that this guide still works, even though the blazes no longer match the pictures (thanks, Jennifer!).  I have updated the text in this guide to match the new blazes, but there's not much I can do about the old pictures.  Hope you still find this trail guide useful!  And if you complete this hike, I'd love to hear your feedback on anything else I can change to make it easier to follow.  Thanks, and sorry for the mental gymnastics you'll have to do when I talk about green blazes above a photograph of orange blazes!    
1.  From the parking area (See "Directions to the trailhead" below), walk along the road for 100 yards or so, away from the intersection of Warwick Turnpike and White Road (as you walk along Warwick Turnpike, you should have woods and a guardrail on your left, some green houses on your right).  When the guardrail ends, turn left to find the trailhead and kiosk just off the road.
2.  Take a moment to check out the kiosk and the very nice trail map posted there.
3.  Let's do this!  Hop on the green-and-black-blazed Bearfort Ridge Spur Trail to begin your adventure.  (And don't worry if you notice the "Trail closed" sign on the gated trail to your right – we won't be needing that trail today.)  Onward and upward!
4.  In about two minutes, bear left as an unmarked trail departs to your right (most likely the "Trail closed" trail we saw a moment ago).
5.  In another minute, you'll arrive at the beginning of our loop for the day, when you'll see the green-blazed Bearfort Ridge Loop (shown with the old orange blazes in the pictures below) splitting off to your right.  Don't go that way!  We'll return to this spot later in the day.
Turn left to hop on the green-blazed Bearfort Ridge Loop Trail, which we'll be circumnavigating today.
6.  In the first mile of this hike, you'll ascend 620 feet.  After that, it's a rolling up-and-down affair with no extended climbs to speak of.  For now, just follow those green blazes up, up and up.
The next point of interest took us about 30 minutes to reach, near the top of that 620-foot climb.  You'll hop up onto an open rock face (careful to follow the trail onto that rock face, and not the unmarked trail that heads off to your left).
Turn around here and see your first (modest hint of a) view for the day.  This spot is officially labeled (some might say generously) as a viewpoint on the NY-NJTC map.
7.   Shortly after that view, you'll have a couple more short, steep climbs.
Then you'll be rolling along on top of the ridge for the next two miles.  Enjoy the picturesque woods here.  Bonus points if you notice the hollow tree branch along the trail that looks like a gnome's mailbox.
8.  About 35-40 minutes (or .7 miles) after the modest-hint-of-a view, you'll come to a spot where the trail has been re-routed.  The old route, straight ahead, will have a few branches blocking your path, correctly advising you to proceed no further in that direction, even though it still looks like the way to go.
Instead, notice the small cairn (fancy talk for pile of rocks) to your right, and follow the Green Trail downhill to your right, past the cairn.  (If you're not looking for it, that cairn is not obvious – stay on your toes!)
9.  From that cairn, it's about ten minutes to another pleasant, if mostly seasonal, view.
You can make the view look bigger by zooming in, or, if you don't have a camera with zoom, squinting.
10.  Less than ten minutes after that view, you'll come to another notable spot with a cool rock formation on your left, complete with chasm that you should really try your best to avoid falling into.
11.  After not falling into the chasm, continue along the Green Trail as it hops across open rock faces and up another short, steep climb.
Keep your eyes peeled for the occasional cairn that points the way.
Just dinking along, it took us about 30 minutes to cover the .85 miles from the chasm to the best view of the day, when a wide view opens up to your right.
12.  Plop down and enjoy the view.  See the Empire State Building over there, just to the right of that little communications tower on the furthest ridge?
We could just barely see the city through the clouds, but darkening the image afterward made it more obvious.
On a clear day, you'd get a nice look at the NYC skyline (or the top of it, anyway) from here.
What a nice overlook.  It's not the biggest view in the universe, but this is a certified money spot that helps to secure this hike's place on the A list.
13.  When you're done taking in the view and visiting the Big Apple with your eyeballs, continue for another moment until you find that the green blazes have picked up some yellow-blazed friends.
Turn right/straight on the Green-and-Yellow Trail to head downhill toward Surprise Lake, which is about .4 miles from here.  Onward and downward!
14.  The well-marked Green-and-Yellow Trail heads sharply downhill, dropping 135 feet over one-tenth of a mile before leveling out across some rocky terrain.
And then, just .2 miles from the start of the Green-and-Yellow Trail, your first point of interest: the rhododendron tunnel!
I had no idea what to expect from a rhododendron tunnel, and while the tunnel itself probably wouldn't qualify as a destination on its own, it is a very cool and unique spot to explore.  It goes on for quite a while, too.  Partway through, you'll climb a little hill and think, "Well, I guess I'm through the rhododendron tunnel now."  Nope!  More rhododendron tunnel, coming your way!
Why don't the deer demolish this place?  They must be full from eating all the bushes in your front yard.
15.  Just a few minutes past the end of the rhododendron tunnel, you'll see the Green Trail joining you from the right.  We'll come back to this spot in just a bit and take the Green Trail back to within minutes of you car.  For now, though, keep heading straight across the little clearing.

16.  SURPRISE!!!!  It's a lake!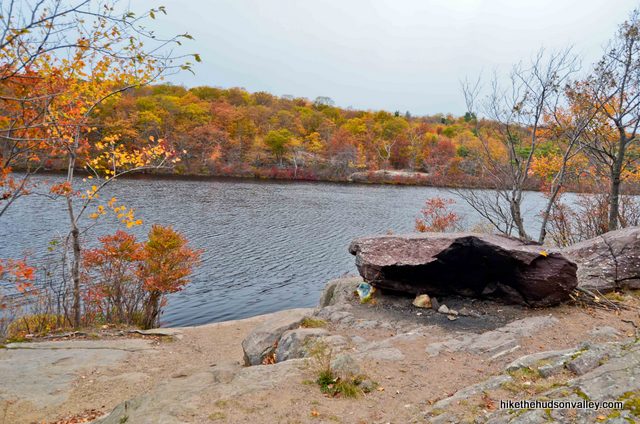 What a nice spot.  If you have some snacks, now would be a righteous time to bust into them.  Surprise Lake is apparently a busy spot during the summer – even on a chilly, overcast fall weekday, we saw a couple other hikers here.
It's also apparently a popular swimming hole, though the examiner.com article "Swimming hole hikes in North Jersey" lists Surprise Lake as one of "numerous backcountry waters that are popular among hikers who are willing to risk a fine."  So, you know, sounds like you're not supposed to do that.  (Also, this nice blog post shows pictures of a snapping turtle in Surprise Lake, if that gives you any encouragement to stay on the straight-and-narrow.)
16a.  **UPDATE June 2014** Optional step from the future!  You COULD visit the Greenwood Lake overlook from here, which is .3 miles down the Yellow Trail, to your left (assuming Surprise Lake is at your back).  It's relatively flat between here and there – less than 100 feet in total ascent.  That would add .6 total miles to your already long day of hiking, but if you have the time and energy, it's worth it.  
I didn't visit this spot during my first hike here because I wasn't sure how far down the Yellow Trail you'd have to go to get to the overlook.  Turns out, it's not that far – about ten minutes one-way.  You may or may not want to spend the extra calories to get there, and you still have a long way to go to get back to your car, but it would be a dereliction of my online-hiking-guide duty if I didn't at least mention your proximity to the overlook.  If you check it out, just come back to Surprise Lake when you're done and continue the guide from the next step.  If you skip it, no worries, you can always hit it up by checking out Surprise Lake II (via Greenwood Lake overlook) next time!
17.  When you're done checking out the gorgeous lake (and not swimming in it), return to the Yellow-Green/Green junction just a few yards back the way you came.
Take a left at the fork to (re-)hop on the Green Trail.
18.  From here, it's a straight blast along the Green Trail for the next 2.3 miles, during which you'll lose 578 ft in altitude (after a brief climb near the beginning of the trail).  The Green Trail is a wide, well-marked, rocky trail.  The return trip is much quicker – you're well more than halfway done at this point.
You'll also find plenty of nice sights along the way.
Carefully following those green blazes and not trying to set any land speed records, it took us about 90 minutes to walk the entire length of the Green Trail.
19.  When you arrive at the end (or the beginning, depending on how you look at it) of the Green Trail, hopefully, you recognize where you're standing: right at the intersection from Step #5 above, where you stood so many miles, rocks and questionable jokes ago.
20.  Continue straight onto the Green-and-Black Trail, retracing your steps from earlier in the day.
21.  Hello there, civilization!
When you hit Warwick Turnpike, turn right to head back to your car (unless you parked in the overflow lot, then it's a left).
SURPRISE!!!  Your car's gone.  Just kidding.  It's still there (I assume), and you just knocked out an awesome hike.  Now go celebrate with a 2,000-calorie meal somewhere!  You've earned it.
Directions to the trailhead: From Newburgh headed south on I-87, take exit 16 for NY Rt. 17 (near the Harriman toll booths), then merge onto 17 West.  After 2.5 miles, take exit 130 for NY 208 South, then turn left onto NY 208 South.  You'll only be on 208 South (Main St) for about half a mile, then you'll turn right onto Schunemunk Road (also labeled 208 S) for a few hundred yards.  When Schunemunk Road dead-ends into NY 17M, turn left onto NY 17M East.   In one half-mile, turn right onto Lakes Road (aka Rt 5), and enjoy not having to make any more turns for the next 9 miles.  Toward the end of that 9-mile stretch, Lakes Road becomes Mountain Lakes Lane, then NY-17A East, then Windermere Ave, all without you having to make any turns.  From the center of the town of Greenwood Lake, turn right onto NY 210 South (Jersey Ave).  This road runs along the length of Greenwood Lake, giving you nice views over the huge lake that I had no idea existed before doing this hike.  NY 210 South becomes Rt 511 (Lakeside Rd), which you'll continue following until it dead-ends into Union Valley Rd in the town of West Milford.  Turn right onto Union Valley Rd.  In .2 miles, veer right onto Warwick Turnpike when Union Valley Road bends to the left.  (The Country Roads Deli at that fork is a good place to grab a pre- or post-hike sandwich.)  When Warwick Turnpike bends to the right, you'll see a wide pulloff on your left that you can use as backup in case the main pulloff (closer to the trailhead) is full.  Continue straight past that backup pulloff for a few hundred more yards.  You'll pass the trailhead on your right, then about one hundred yards later, you'll see a parallel-parking pulloff on your right that can hold several cars, just before the intersection with White Road (which comes in from the left).  Pull off here and let the adventure begin!  Whew.  We made it.
You can also get directions by checking out the Surprise Lake via Bearfort Ridge entry on the HiketheHudsonValley.com Google map.
Sorta nearby address for your GPS: This intersection will get you very, very close to the trailhead:
Warwick Turnpike and White Road
West Milford, NJ
The well-marked trailhead is just a few yards south of that intersection, on the east side of Warwick Turnpike (on your right if you're heading north on Warwick Turnpike) .  See "Directions to the trailhead" above for more details and a nearby backup pulloff, in case the primary one is full.  Rock and roll!
GPS coordinates of parking area: 41.1557, -74.36275 (Clicking will open in Google Maps or the Apple Maps app, depending on your browser/device.)
Super-cool Google Earth flyover of hike route:
Google Terrain Map of hike route:
Related resources: If you're looking for actual facts and/or useful information, visit these resources:
Was this trail guide useful to you? Please leave a comment!
Want to support trails in the Hudson Valley? Here's one great way: Visit the New York-New Jersey Trail Conference homepage and click on Volunteer, Donate, or Shop! (Then you can volunteer, donate, or shop, depending on your mood.)