While the vast majority of trails and parks in the Hudson Valley reopened sometime in 2020 after closing early in the pandemic, a few notable local hikes remained closed well into 2021.
Those hikes, which are all now open, include:
Bear Hill Preserve in Cragsmoor, NY
The ice caves at Sam's Point (part of Minnewaska State Park)
Indian Ladder Trail in John Boyd Thacher State Park (near Albany)
With the relatively recent opening of those three trails, I'm no longer aware of any trail closures due to the pandemic, and have removed the possible-pandemic-trail-closure warning and link that resided at the top of each trail guide since the start of the pandemic last year. (Though it's always a good idea to keep an eye on the New York-New Jersey Trail Conference's Trail Alerts page for current news. Trails close, re-open, receive different blazes, and otherwise change around here way more often than you might realize if you weren't trying to keep 80+ online trail guides up-to-date.)
Last week, I updated the Indian Ladder Trail guide with information from Bill Hein, the park manager at Thacher State Park, who graciously reached out to give further details on the Indian Ladder Trail re-opening and the parking situation there. (I really appreciate the help to keep these trail guides current — If you're an official cool dudenheimer like Bill, or just a person who knows stuff, please don't hesitate to reach out or comment on the individual guides with updates!)
And while we're chatting about trail situations changing, it's worth mentioning these two recent big fat closures as well, with helpful details provided by commenters on the individual trail guides:
Bash Bish Falls no longer has a Massachusetts trailhead (the New York trailhead is still open), and the stairs down to the falls are barricaded. You can still see the falls from behind the barricades, but you can't get as close anymore. Apparently, visitors couldn't refrain from treating Bash Bish like Splashdown Beach. Rangers are patrolling the trail to remind people to stay out of the water. (Thanks to Marjorie K for the initial heads-up, and to Wayne for the recent report from Bash Bish.)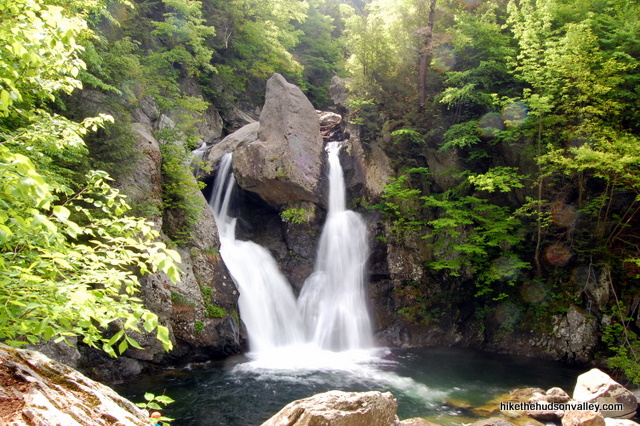 So a couple of local trailheads have closed, but a prominent new trail just popped up! The Nimham Trail at Breakneck Ridge provides an alternative for hikers who don't want to climb the elevator-shaft-of-a-rock-scramble to get to some awesome views, while also providing a shorter return loop for those who prefer to scramble their way up the mountain. This NY State Parks blog entry: "Ninham's Journey: Hard Tale and a Mountain Trail in the Hudson Valley," provides a ton of excellent detail on the impressive creation of the trail and the history behind its namesake (and an explanation of why you'll see the trail called both "Ninham" and "Nimham"). I look forward to checking it out soon!
Know of any other significant changes with our local trails that deserve a mention? Please let us know in the comments below!
Hang in there, happy adventures, and stay safe, everyone!