Background you can feel free to skip: I'd always thought that hiking the entire loop around Bull Hill seemed like overkill – the best views occur relatively early in the loop, so why not just turn around and go home after you hit those highlights?
That question turns out to have multiple answers: The very interesting Cornish Estate ruins, a few more nice views, and several more miles of very pleasant trails.
In my first Bull Hill trail guide, I recommended turning around after the best view on this hike (heretofore referred to as "the money spot").  For most people, doing that 3.6-mile up/back version of this hike is probably still your best option.  But if you have enough gas in the tank to do the entire loop (which adds another 2.3 miles and 172 vertical feet), you'll be rewarded pretty handsomely for burning those extra calories.
The sprawling ruins of Northgate, the Cornish Estate, serve as the most unique reward for doing the whole loop.  You'll find several interesting buildings here that you can explore, though there are no guarantees that something won't collapse on you, so please exercise caution and ogle from a safe distance.
The estate, built sometime around 1907, was once the home of Edward Joel Cornish, who devoted his life to genetically engineering tiny, succulent chickens.  For decades, the estate served as the world's largest free-range sanctuary for the little hens that came to bear Cornish's name.  Some locals still speak in hushed tones about the evening that an experiment went horribly wrong, unleashing a gigantic rooster that stomped and pecked the estate into its current condition.
Actually, Mr. Cornish was president of the National Lead Company.  He purchased the estate in 1917 and lived there until his death in 1938.  The estate burned down in 1958.  The ruins here are truly impressive – they must have been amazing in their heyday (you can see a nice historical photo of the mansion in this entertaining blog post).
I decided to tackle this hike on a not-too-painfully cold day in December, when I had a vacation day to burn and the dog didn't have anything better to do but hang out with me.
Perhaps there was a better way we could have spent that day, but probably not.  If you're looking for a challenging hike with beautiful views and several points of interest along the way, Bull Hill is the hike for you.
(Also, please forgive me for getting some re-use out of my original Bull Hill trail guide below – since I've already written up some of this hike, I'll be plagiarizing myself in this trail guide for much of the first bit, switching over to original content once the routes diverge.)
Trail Guide
If you find this free trail guide useful, please provide payment by picking up at least one piece of litter on your hike. Cha-ching! Thanks for being awesome! (And here's a quick primer on Leave No Trace, too, to help us keep the trails nice and fresh for each other.)
1. From the Bull Hill parking lot (see "Directions to the trailhead below"), begin your ascent on the white-blazed Washburn Trail.  Check out the trail map box before you begin.  If you're the planning type, you could also print out a Hudson Highlands trail map before you come here.  (If you snag a map from the box, it's good karma to put it back at the end of the hike.)
The parking lot was under construction during my most recent visit in December 2016 (I parked across the street at Little Stony Point).  If construction is complete when you visit, enjoy the awesome new parking lot, person of the future!
2. You'll immediately come to a well-marked junction with the blue-blazed Cornish Trail, which is where our loop begins (and ends).  Stay right on the White (Washburn) Trail.
3. Ascend through a deciduous forest for about ten minutes as you approach an old abandoned quarry. It's about .4 miles and 150 vertical feet from the parking lot to the quarry.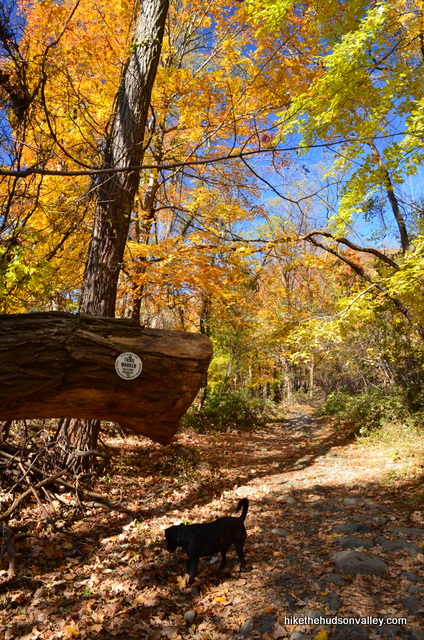 4. Emerge into the old quarry and take a look around. The low grasses and small trees make this place feel like a savanna. I always expect to see gazelles hopping around in here, but so far, my search for the elusive Bull Hill gazelle has yielded only disappointment. Good thing it's such a cool place otherwise.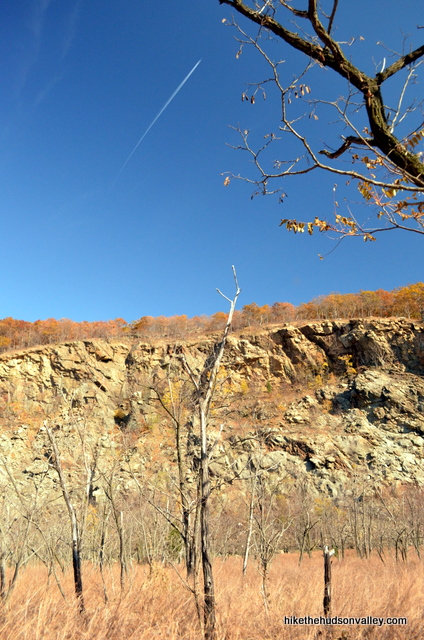 Right at the entrance to the quarry, the trail takes a hard right (almost a U-turn), while an unmarked trail heads into the quarry. Turn right here to continue ascending on the White Trail.
5. Now the serious climbing begins.  Our next point of interest is Table Rocks, at which we'll arrive in another .3 miles and 297 vertical feet.  It took me about ten minutes to get there.  (It can be easy to lose track of the trail markers in this section – the correct trail isn't always obvious, as the White Trail has been rerouted here and it's easy to step off onto an old unmarked section of trail.  You'll want to very carefully play a game of "Find the Next White Blaze" as you ascend.)
As you ascend, keep an eye on your right for the rocky outcropping that affords a very nice view of Cold Spring, West Point and the river valley beyond. If you're feeling lazy, nobody would blame you if you decided to make this your final destination. Table Rocks would qualify as a grand finale anywhere else.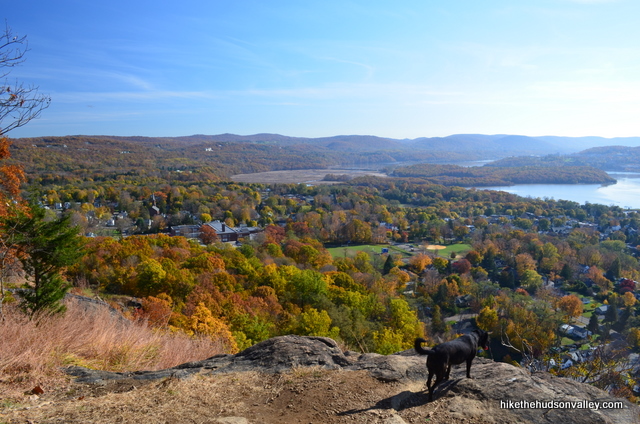 6. From Table Rocks, we'll continue climbing around the quarry, eventually heading past it and up the hill beyond. It's .6 miles and nearly 600 vertical feet to our next milestone: the junction with the yellow-blazed Undercliff Trail. Happy climbing! Keep following those white blazes, and we'll see you at the junction with the Yellow Trail.
7. When you arrive at the White Trail and Yellow Trail junction, you'll find it marked with blazes and spray-painted arrows.
We're going to continue straight on the White Trail here, but it would be trail-guiding malfeasance not to mention the nice views that you COULD see if you wandered to your left down the Yellow Trail for about .3 miles.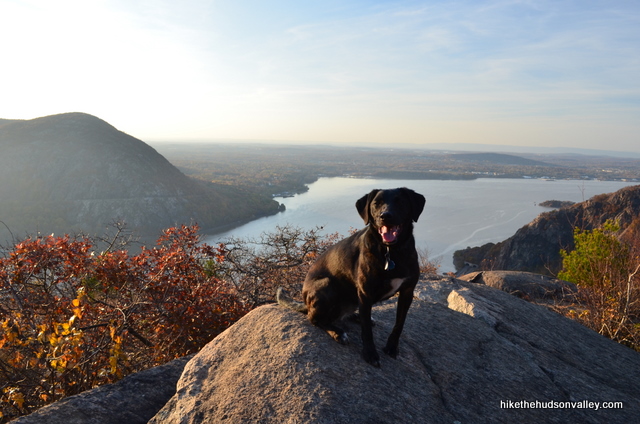 Since we're already tackling such a large hike today, we're officially skipping that extra jaunt, but you COULD turn left here, keep following the yellow blazes until you come to a rocky viewpoint that lets you look up the river to the north, then turn around and come back to this Yellow/White junction (if you do this extra bit, and you find the Yellow Trail bending hard to the right, heading back towards Bull Hill and away from the river, you're going too far).  You COULD do that, but you could also save those calories for the continued climbing ahead.  Whatever you choose to do, no judgement from me!  Do your thing (or don't), and let's go to the next step.
8. From the White/Yellow junction, head uphill on the White Trail.  The best viewpoint on Bull Hill is .21 miles and 180 vertical feet from here.
***IMPORTANT UDPATE POSTED MARCH 2020***
The following two steps (9 and 10) detail how to visit an unmarked, off-trail viewpoint that I have been calling  the "money spot" for many years.  Evan Thompson, Hudson Highlands State Park manager, reached out to me recently to ask me to amend these instructions — people have been getting lost trying to find this spot.  Besides, it's generally bad practice to wander off-trail, or to encourage others to do so, and I *think* this is the only trail guide on this entire site where I do tell people to go off-trail, since it seemed to be a travesty to climb Bull Hill and miss the awesome view at the top.    
Fortunately, I got this awesome update from Evan a few days after we started emailing each other:
"There is [another] view right off the trail to the south at that location that: has a wider and better view, can accommodate more people and is safer. For now, we spray painted, "view" on a rock that leads to the new $$$$$ spot. So, if you could update your article to reflect this information, that would be great. And we'll leave the old spot to the fence lizards and rattlesnakes."
Please look for the NEW AND IMPROVED MONEY SPOT on your next Bull Hill hike!  I need to get back out here to visit it for myself.  I'll get this trail guide updated as soon as possible with the new details and pictures.  In the meantime, I've put Steps 9 and 10 in strikethrough — please disregard them, and keep a sharp eye out for the painted sign to the new Money Spot!  
And a special thanks to Evan Thompson for helping us all find the new Money Spot, and keeping us from wandering around lost in the woods!  (After visiting the awesome new spot, you can resume the trail guide at Step 11 below.)
9. READ THIS STEP CAREFULLY OR YOU'LL MISS THE WHOLE POINT OF CLIMBING BULL HILL! The trail doesn't take you to the best viewpoint on Bull Hill if you aren't looking for it. You have to wander about 30 feet or so off the White Trail to get there.
It'll take just shy of ten minutes to reach the viewpoint from the White/Yellow junction at a casual pace. Keep a lookout on your left for some boulders that you can't see past. That's where the action is.
On my most recent trip here, I hadn't been to Bull Hill in a few years, and I walked right past the viewpoint.
I had to circle back to find it, after much cussing and befuddlement.  I've also watched several other hikers walk past this spot without stopping, not realizing that the most money spot on Bull Hill was just a few feet away. I wonder how many people come here and don't know that they just walked right past one of the best viewpoints in the Hudson Valley. My point: keep a close eye out here or you'll miss the spot altogether.
One hint that you're getting close: you'll see a white arrow painted on a rock in the middle of the trail. From here, it's just a couple more minutes up the hill – you can almost see your destination through the trees.
When you get to the boulders on your left just a minute after that arrow, climb up on top. Get ready to plop down and enjoy the sweet fruit of your labor, and feel super awesome that you found a spot that so many people stroll right past.
10. Look south to see the Hudson winding its way towards New York City, where the shad enter the river from the sea and dead mobsters enter from various bridges. This is one of my favorite views in the Hudson Valley.
Straight across the river, the western Hudson Highlands smile back at you.
What an amazing place.  This is the best view on this hike, so kick back, relax, and feel sorry for everyone who's at work right now.
11. Once you're done cashing in the view at the money spot, return to the White Trail and turn left to keep hoofing it in the direction you were heading.
You've come 1.6 miles so far, only 4.3 to go!  (If it's any consolation, those 1.6 miles were by far the toughest on this hike.)  You've also climbed almost 1,300 feet, with only about another 100 or so vertical feet until the true summit of Bull Hill.  Woo hoo!  Let's do this thing.
12. Next landmark to watch for: In less than ten minutes from the money spot, you'll climb a little rock face with a curved arrow indicating a left turn.
Look just beyond that arrow to see *NYC painted on the rock.
Stand right on that asterisk and turn around.  You won't EXACTLY feel like you're in Times Square, but on a clear day, if you squint (and/or have a serious zoom lens), you juuuuuust might be able to make out the NYC skyline on the horizon.  (In the second image, I tried darkening things and cranking up the contrast to make the buildings stand out, and I THINK I see some buildings, but I definitely have a headache now.)
Do you feel a part of it, New York, New York?
With a little less squinting, you can see two Hudson River bridges from this spot.  See 'em?
There's the eastern side of the Bear Mountain Bridge.
And the Tappan Zee.
When you're done squinting and zooming, just keep chugging along on the White Trail.
13. In less than ten minutes from the *NYC view, another view opens up to your left, this time looking north. If this isn't the summit of Bull Hill, it's very, very close.  In any event, it's all downhill from here.  w00t!
Hey!  Another bridge!  This time, the Newburgh-Beacon Bridge.  You're well on your way  to collecting the whole set.
This is pretty much your last view for the day.  Take it all in, then keep rocking and rolling on the White Trail.
14. From the view at Bull Hill's summit, it's .6 miles downhill through some switchbacks to get to the next trail junction, when the White Trail ends in a triple-blaze of glory. Took me just under twenty minutes to get there, treading carefully over some thin ice.
15. When the White Trail ends, you'll see many more blazes just beyond, as the Blue Trail ventures off to the left, and the Green Trail goes off to the right.
Turn left here to hop on the Blue Trail.
16. It's about one mile to the Cornish Estate ruins from here (took me just under 30 minutes). After ten minutes or so, the Blue Trail takes a sharp left turn marked with double blazes.  Otherwise, not much to note besides beautiful woods and streams – just keep rocking and rolling, following the blue blazes.
17. You'll know you've reached the Cornish Estate ruins when you arrive at a stream crossing where the Red Trail begins, heading downstream to your left (but don't turn left here just yet).
You'll come back to this spot later, after you've checked out the ruins.  You can pick your way across the stream here, then turn right to visit the ruins, but I recommend you head upstream through a break in a stone wall, following dark blue blazes for just a minute.  Those blazes will lead you to an intact bridge across from the ruins, which makes crossing the stream much easier.
Hop across that bridge (or what's left of it) and check things out!
18.  Interesting place, right? Carefully poke about – I strongly recommend that you do NOT enter any of the buildings, especially not the ones with ceilings or roofs still somewhat intact.  This area was apparently part of an elaborate cattle barn operation, where Mr. Cornish kept some fancy cows.
These facilities must have been awesome in their day.  As any homeowner can attest, though, this is what happens when you stop maintaining a house for, like, six months.
19. When you're done NOT getting killed by falling concrete and/or the Blair Witch, return to the start of the Red (Brook) Trail. A helpful sign tells you that the Brook Trail takes you to Rt. 9D, which is exactly the way we're going.
Hop on the Red Trail and enjoy some creekside strolling.
20. In .3 miles, you'll see the Yellow (Undercliff) Trail splitting off to your left.
Keep heading straight on the Red Trail.
21. Immediately thereafter, you'll see a picturesque bridge spanning the creek, where the Yellow Trail crosses the bridge to the right.
While you should NOT cross the bridge, it's a nice spot to hang out for a minute and enjoy the cascade that flows underneath.
When you're done enjoying the bridge, continue downstream on the Red Trail.
22. In a couple of minutes, you'll pass another a concrete outbuilding, where a green-blazed trail splits off to your right. If you notice that trail, just ignore it and keep following those red blazes.
23. In just a few more minutes, you'll arrive at a very well-marked fork, where you can choose between following the Red Trail to the right (toward "Tunnel") – don't do this – or take the left fork toward Cold Spring and the Washburn Trail. DING DING DING!  That's the winner!  Winner, winner, tiny little chicken dinner!
Take the left fork here to hop on the blue-blazed Cornish Trail toward Cold Spring.
24. The trail widens and becomes smoother through this section. You'll see more traces of the sprawling Cornish estate as you go, too.  (The Olde Cornish Hot Tub was looking a little chilly when we strolled past.)
Shortly after the hot tub, the trail becomes a paved path.
In another moment, you'll see perhaps the most impressive ruins of the day to your right.  An old driveway joins the Blue Trail, giving you easy access to the ruins, if you'd like to get a closer look.  (I was all ruined-out by this point, but you should feel free to ruin it up, if you aren't already ruined for ruins.)
25.  From those estate ruins, you're about one mile from the end of the hike. Just keep hoofing down the hill, enjoying the stroll and the sights as you descend closer and closer to Route 9D, which reminds you what civilization sounds like.  (VRROOOOOM, is what it sounds like.  Just relive your memories from earlier in the day and try to tune it out.)
When the Blue Trail dumps you off at a gate that opens onto 9D, turn left just before the gate to continue toward the parking lot.
In just five more minutes, voila!
Hello again, nice new parking lot!  Thanks for letting our cars hang out here while we had better things to do.
Congratulations on busting out the entire loop!  I hope you enjoyed your day at Bull Hill, and can create an opportunity to eat at least four slices of pizza tonight.  Or perhaps a few Cornish hens?
Directions to the trailhead: From Beacon, head south on Route 9D. In less than five miles, you'll pass under a tunnel at the trailhead to Breakneck Ridge. About one mile after that tunnel, you'll see the well-marked parking area for Little Stony Point on your right. Park in the spacious lot directly across the street, on your left heading south. If you enter the village of Cold Spring, you've gone just a few hundred yards too far.
You can also get directions by checking out the Bull Hill (Mt. Taurus) II: Full Loop entry on the HiketheHudsonValley.com Google map.
Sorta nearby address for your GPS: The intersection of Fair St and Route 9D in Cold Spring, NY is directly south of the Bull Hill parking area (the parking area is immediately north of that intersection, on the east side of Route 9D).
GPS coordinates of parking area: 41.42659, -73.96534 (Clicking will open in Google Maps or the Apple Maps app, depending on your browser/device.)
Super-cool Google Earth flyover of hike route:
Google Terrain Map of hike route:
Related resources: If you're looking for actual facts and/or useful information, visit these resources:
Want to support trails in the Hudson Valley? Here's one great way: Visit the New York-New Jersey Trail Conference homepage and click on Volunteer, Donate, or Shop! (Then you can volunteer, donate, or shop, depending on your mood.)