Background you can feel free to skip: For many years, Storm King Mountain has been my go-to hike for bringing out-of-towners, even people who hate being outside.
"If this hike was 100 yards longer, I would have stopped having fun, but it ended at just the right time," reported my friend Jaime after a day at Storm King.  Jaime and her husband Josh (who incidentally designed the logo and Web layout for HiketheHudsonValley.com) both pretend not to like hiking all that much, but they actually seemed to enjoy themselves here.
That's their picture in the banner graphic above.  Don't the backs of their heads seem to be smiling?
And there's plenty to smile about at Storm King.
"Oh, no, this isn't the money spot yet," you'll tell newcomers to this hike as you pass viewpoint after viewpoint.  As a bonus, this is one of those hikes that starts you halfway up the hill, so you get more view than you actually earn.
All of this is not to say that this is an easy hike.  There are a couple of very steep stretches here, including a place toward the beginning that requires a little bit of rock scrambling.
These steep stretches in the beginning are the reason I've given this hike a fairly beefy difficulty rating of 6.  If you can get past the first 30 minutes or so, though, this hike becomes more of a meander, with intermittent views in all directions as you circle the crown of Storm King Mountain.
Besides being an all-around awesome hike, how cool is the name Storm King?  I defy you to find me a cooler-named mountain.  The instant you say the words "Oh, I'm just heading up to Storm King today," you automatically become 20% cooler.
So even if you don't like hiking, give this place a visit and see if it doesn't change your mind.  And if you already like hiking, you're in for a king-sized treat.
Trail Guide
If you find this free trail guide useful, please provide payment by picking up at least one piece of litter on your hike. Cha-ching! Thanks for being awesome! (And here's a quick primer on Leave No Trace, too, to help us keep the trails nice and fresh for each other.)
1.  From the parking area on Rt. 9W, face the woods and look to your left, where you'll see the beginning of the Orange Trail.  Hop on the Orange Trail to start your Storm King adventure.  You'll see the White Trail coming in from the right, which is the end of the loop that you're about to make.  You'll have some good memories and some tired legs the next time you're standing at this spot.
2.  I hope you weren't looking for a warm-up before hitting the steep stuff.  Ascend the steep, rocky path towards the top of Butter Hill (the appetizer to the main course of Storm King).  Route 9W quickly falls away behind you.
3.  After the first steep stretch, you'll pass the ruins of a small building.  Want to know what was once there?  Buy Peggy Turco's awesome trail book.  I honestly can't remember what used to be there, but I know she gives that information in her excellent Storm King write-up.  Since I can't find that info anywhere else online, I think Peggy deserves some love for digging up that tidbit.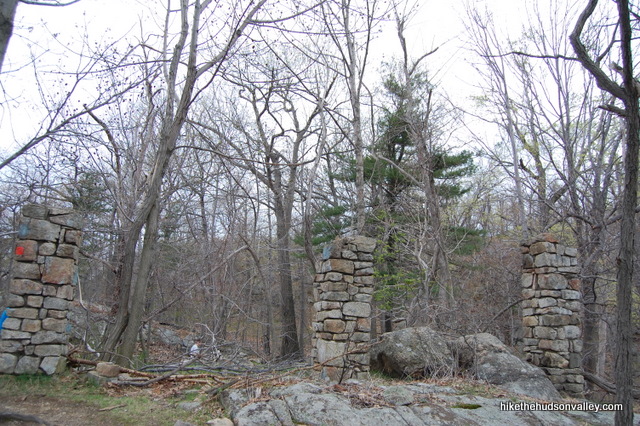 4.  Head down a small saddle after the ruins, then Butter Hill demands your complete attention once again.
5.  Thankfully, your efforts are immediately rewarded.  As you make your way up Butter Hill, the views open up in almost every direction.
6.  The Orange Trail abruptly bids you adieu when it dead-ends into the yellow-blazed Stillman Trail (which is often marked with both yellow and blue blazes together.  The entire Orange Trail used to share those yellow-and-blue blazes – you might have noticed some of the faded old markings along your way).  Take a right onto the Yellow Trail (a new yellow blaze has recently been added to this spot to make it clearer (thanks for the intel in your nice comment, Cailin!), but if the only blaze you see is a blue one, just turn right and walk a few feet, and you'll see the yellow blazes, too) to continue climbing Butter Hill, which you'll summit in just a few minutes.    
**UPDATE July 2015** I put right in bold because it kind of feels like you should turn left here, and that's exactly what at least two folks in the comments below have done.  Remember: Left is not right.  Boom!  Check out that mnemonic device.
**UPDATE September 2015** DO NOT TURN LEFT AT THIS JUNCTION!  Sorry for yelling (and underlining said yelling), but at least three people now in the comments have turned left here and gotten lost.  PLEASE DON'T TURN LEFT HERE! When the Orange Trail ends, TURN RIGHT!!!!!  TURN RIGHT!!!!!   (Now back to your regularly scheduled non-yelling.)

**UPDATE August 2017**  It's still happening!  NOW I'M YELLING AGAIN!!!  TURN RIGHT at the end of the Orange Trail, or the rest of your day is NOT going to go according to plan.  Okay, I'm sure this will be the last update I'll ever have to post here.  Enjoy the rest of your hike, now that you've TURNED RIGHT AT THE END OF THE ORANGE TRAIL!!!!  (Back to normal volume now.)
SPECIAL NOTE TO SKIMMERS: Please read all of the updates directly above (including all of the words in them), especially the words about TURNING RIGHT AT THE END OF THE ORANGE TRAIL!!!!
SPECIAL NOTE TO PEOPLE WHO ALREADY TURNED RIGHT LIKE FIVE MINUTES AGO: Sorry about all this.
7.  After a solid 30+ minutes of hiking from the parking lot, you'll reach the top of Butter Hill (assuming you turned right at the end of the Orange Trail), which affords some very nice views and a rocky spot to take a break.  See if you can find the round US Geo Survey marker for the summit in the stone beneath your feet.  You've gained over 400 feet in altitude since the parking lot.  You still have some uphill stretches ahead, but this is the highest spot on the hike, at 1,375 feet.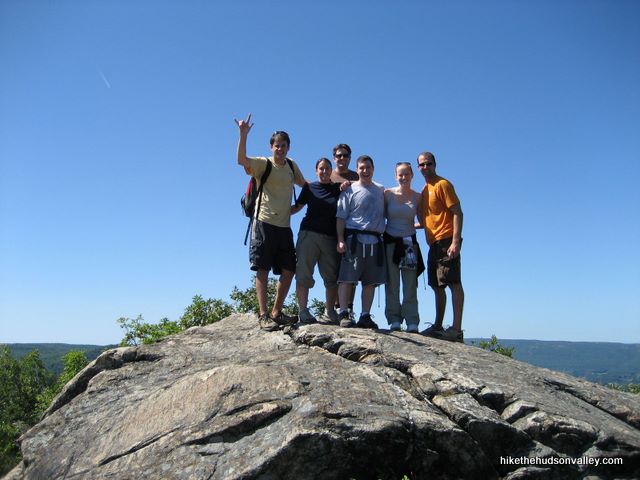 8.  Continue along the Blue/Yellow Trail as it meanders across the mountain.  When the blue/red-blazed Bluebird Trail intersects from the left, turn right to stay on the Blue/Yellow Trail.  This intersection is also marked with a small cairn (which is fancy talk for pile of rocks.)
9.  Just a minute after the intersection with the Bluebird Trail, the blue-blazed Howell Trail intersects from the right.  Don't be wooed.  Take a left to stick with the good ol' Blue/Yellow Stillman Trail.  If you happen to have a lovely assistant, see if you can get her to point the way.
10.  The Blue/Yellow Trail takes you to the northern end of Storm King Mountain, where you'll start to get some very nice views of the river.  The real money spot is yet to come, though.11.  You'll know you're at the money spot when you get there.  The Blue/Yellow trail pops you out into a rocky field with wide views of Newburgh Bay, Bannerman's Castle, the Newburgh-Beacon Bridge, the Catskills in the distance and the eastern Hudson Highlands across the river.  On a sunny, breezy day, the Hudson River will be filled with sailboats.  What an awesome spot to relax and take it all in.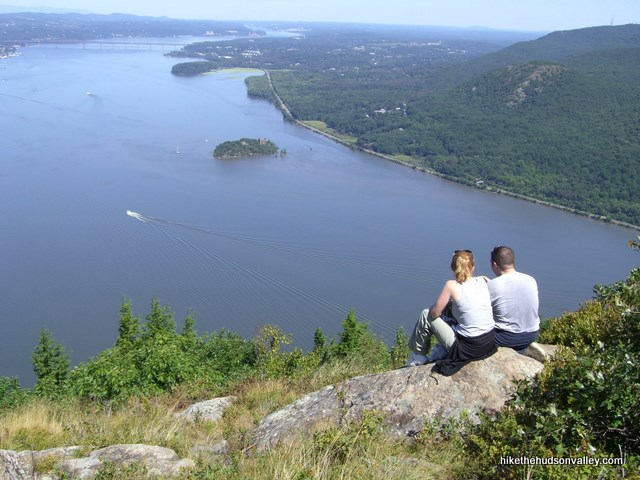 12.  After you've chilled out here for a good long while, keep heading along the Blue/Yellow Trail.  You'll see some short spur trails heading off to your left occasionally, which lead to some more nice overlooks, though nothing as huge as you just saw.  Still, they give a different view, and it's worth checking them out.  If it's the right time of day, you just might be able to get some nice silhouette shots.  Then you can use one of those shots as your banner graphic when you decide to start a website.
13.  A couple of minutes after the money spot, the White Trail begins when the Blue/Yellow Trail takes a very sharp left-hand U-turn to head back around the mountain.  Say goodbye to the Blue/Yellow Trail and keep going straight to hop on the White Trail.
14.  After about 15 minutes, you'll see the blue-blazed Howell Trail join you from the right.  Just keep heading straight to stay on the White Trail, which is now blazed with both blue and white markers.
15.  Say goodbye to the Howell Trail when it departs to your left.  The White Trail takes you all the way back to your car, so keep sticking with it.
16.  After generally meandering downhill for almost the entire walk back, the White Trail demands one last steep uphill climb, just to make sure you're good and sweaty when you get back in your car.
17.  That's it!  You're now right back where you started.  Except that you're a little bit more awesome (and tired) than you were just a few hours ago.
Directions to the trailhead:  From Newburgh, head south on Rt 9W.  Shortly after you cross under the overpass for Angola Road, you'll begin climbing a large hill.  At the crest of the hill, on your left, you'll see the trailhead for Storm King Mountain, which looks like a scenic pulloff with room for about 20 cars.  Unfortunately, it's illegal to turn left here, and you'd be taking your life (and maybe some other people's lives, too) in your hands if you tried it.  So you have to drive three miles past the trailhead to the cloverleaf at the exit for Rt 218/ Rt 293, then drive three miles back.  This is supremely annoying, but it's the only safe way to do it.  Park in the pulloff, check out the educational signage and get ready to rock.
You can also get directions by checking out the Storm King entry on the HiketheHudsonValley.com Google map.
Sorta nearby address for your GPS: Searching for "Storm King State Park parking lot" in Google Maps will take you to the right place (as of this update in July 2019).  "Storm King trailhead" or "Storm King Mountain" will NOT take you to the right place, so be careful!  Better yet, just click the GPS coordinates in the line beneath this one — that will get you there.
GPS coordinates of trailhead: 41.42312, -74.00101 (Clicking will open in Google Maps or the Apple Maps app, depending on your browser/device.)
Super-cool Google Earth flyover of hike route:
Google Map of hike route:
Related resources: If you're looking for actual facts and/or useful information, visit these resources:
Want to support trails in the Hudson Valley? Here's one great way: Visit the New York-New Jersey Trail Conference homepage and click on Volunteer, Donate, or Shop! (Then you can volunteer, donate, or shop, depending on your mood.)