Background
If you find this free trail guide useful, please provide payment by picking up at least one piece of litter on your hike. Cha-ching! Thanks for being awesome! (And here's a quick primer on Leave No Trace, too, to help us keep the trails nice and fresh for each other.)
**UPDATE posted March 18, 2020** The trails on Mt. Tammany are open again (hooray!) after a brief closure for a wildfire in late February.  You can check the Delaware Water Gap National Recreation Area "current  conditions" page to make sure you're up-to-date on the latest.  Thanks to everyone who made this quick re-opening of the trails possible!
---
Background you can feel free to skip: "Dude, THIS is the view?  This can't be the view," I said, standing at the summit of Mt. Tammany with my dad, feeling a pang of disappointment.
Getting to that spot had been the culmination of many miles traveled, both on wheels and on foot, for both of us.  Dad lives outside of Philly; I live in the Hudson Valley.  We'd each driven two hours to meet at Mt. Tammany, which looked like the perfect spot for a meetup, smack-dab between the two of us.
After meeting (and high-fiving) in the parking area, we proceeded to amble through some truly beautiful woods.
We checked out a righteous viewpoint on the way up.
We scrabbled up and over a million rocks.
As we neared the summit, it felt like this hike was building to something awesome.  Surely, the view is just up ahead!  Almost there!  Can't you feel it?
And then, pffffffffft (that's the sound of air escaping from our expectations).  The grand finale of our adventure appeared to be a big fat dud.
"Excuse me, do you know if this is the best view up here?" I asked a pair of hikers as they strolled past.
"It's been a while since I've been up here, but yeah, I'm pretty sure this is the best view," one guy said, not even breaking stride.  I couldn't blame him for not stopping.  The view wasn't giving anyone much of a reason to slow down.
"Sorry, Dad.  I swear I saw pictures that made the view look way nicer," I said.
"Hey, I still wouldn't want to be anywhere else," he replied.  What a good dad.
Just then, another pair of hikers walked past, but instead of continuing along the trail, they descended along some unmarked tromp-trails.  (Turns out, they didn't know where they were going, either, but they also weren't satisfied with the view.)
As a general hiking rule, the lower you go, the worse views you get, so the strategy of heading downhill didn't immediately strike us as a winner.
"I'm going to rest here, but you can go check it out," Dad said.
I did go check it out.  And, man, I'm so, so glad.  THESE are the views we came here for.
The best views on Mt. Tammany can't be seen from the summit.  You have to venture below the summit (carefully walking on rocks and existing trails to not further tromp the vegetation) to see anything.  (Update: And please read on to the bottom of this section to see a note about the "summit" of Mt. Tammany).
"Everything okay?" Dad texted after I'd been gone a few minutes.
"DUDE.  You gotta come down here. It's SO much better," I replied.
Once he got down there, Dad agreed.  It would be a travesty to climb Mt. Tammany without checking out the views directly below the summit.  Mt. Minsi smiles back at you from across the Delaware River, while, back on Mt. Tammany, several inviting rocks invite you to hang out on them as you take it all in.
Oblivious hikers must stroll right past this spot every day, totally missing these incredible views.  Let's pause for a moment and wish those people something good in their lives, to offset the horrendous view-related injustice they've just experienced.
…
…
…
Okay, moving on.
While the scenery on Mt. Tammany is indeed gorgeous, getting to the views (and getting back down from them) can be treacherous.  I sure wouldn't want to do it in wet weather.  And while I wouldn't necessarily classify the hike as a "rock scramble," since you don't HAVE to use your hands to pull yourself up, you need to be prepared for some strenuous, rocky stretches.
And it doesn't hurt to use your hands from time-to-time, either.
Have I mentioned the rocks?
There are lots of them!  While regular sneakers can be fine for easier hikes, sturdy, hard-soled hiking shoes are highly encouraged here.  Your feet will thank you.
Like Silver Sands State Park and Surprise Lake, I've documented this hike even though it's not really in the Hudson Valley.  (While annexing the Delaware Water Gap to the Hudson Valley would be awesome, New Jersey and Pennsylvania might get upset.)  This hike is easily within day-tripping striking distance from the Hudson Valley, though, and makes a nice mid-point to meet folks coming from Philly.  If you've got a friend in Pennsylvania, this might be just the hike for you.
Even if you don't have friends in Pennsylvania, this still might be the hike for you!  There's plenty to see here besides the awesome view, including a beautiful creekside stroll through a gorge, complete with a little waterfall and picturesque footbridges.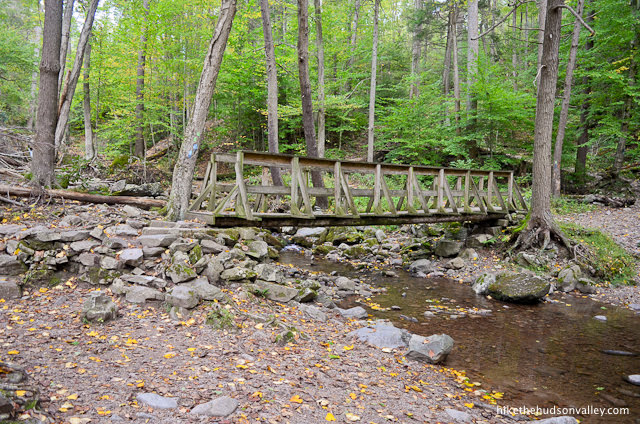 If you're looking for a beautiful, strenuous stroll with plenty of points of interest, Mt. Tammany is a trek worth adding to your list.  But make sure you don't stroll right past the best part!
Note on parking/crowds: Unlike the view just below the summit, this hike is NOT a well-kept secret.  We visited on a Friday morning, and we had plenty of company out there.  On nice weekends, this hike can apparently get very crowded.  The very helpful njhiking.com trail guide for this hike notes that the large parking lots regularly fill up by 10am on nice weekends.  If you're looking for solitude on Mt. Tammany, you'll want to tackle this hike at an off-peak time.  (And if you're visiting on a Saturday or Sunday, get up early, lazy bones!)
Note on what exactly constitutes the "summit" of Mt. Tammany:  After writing this trail guide and comparing it to some others available online, I realized that other folks are talking about the place where the Red Dot Trail ends (Step 11 in the trail guide below) when they say "summit," and I am talking about the spot about 500 feet before that (Step 8 in the trail guide below) when I say "summit."  Both spots are at about 1,450 feet in elevation (and both spots have views that get better if you go slightly downhill from them).  The actual summit of Mt. Tammany must be somewhere else, because the trail continues gently uphill beyond both "summits", and the official height of Mt. Tammany is given as 1,526 feet.  I don't think this distinction materially affects anything in this trail guide or anywhere else, but I just wanted to point out this discrepancy because I don't want you getting into fistfights with anyone about the location Mt. Tammany's summit.  (The spot in Step 11 is the generally agreed-upon summit, so please don't lose any arguments defending my honor.)
Trail Guide
Bonus unsolicited advice: Don't depend on having cell service in the woods - it can be spotty out there! Download this trail guide to your phone before you head out. (It's easy to do on iPhone and Android.) May your connection to nature be strong, even when your connection to the internet is weak.
1. From the Red Dot Trail parking lot (see "Directions to the trailhead" below), head to the back corner of the lot, furthest from the entrance, where you'll see some picnic tables. To the right of the tables, you'll see the stairs and sign marking the start of the Red Dot Trail, which is where you want to be.
Just behind the sign, you'll see a tree with three very faint (as of October 2019) blazes marking the start of the Red Dot Trail.
The Red Dot Trail is blazed with white rectangles that have (get this!) red dots in the middle.  Don't worry – most of the blazes on this hike are in pretty good shape, and some have been added fairly recently.
Be sure to keep your eyes peeled for those blazes – this is a popular hike with many unmarked tromp-trails leading off to who-knows-where.  Just keep playing a game of "Find the Next Blaze" all day and you'll be fine.
In any event, you're off to a great start – just 4 miles and 1,600+ vertical left to go!  Hop on those stairs and let's do this thing!
2. Follow those blazes up the hill.
Almost immediately at the crest of the hill, you'll come to your first tromp-trail to who-knows-where.  Stay left to follow the Red Dot Trail.
3. Here's where things get tricky. In another moment, you'll see the Red Dot Trail splitting off to your right.
You'll also see the Red Dot Trail continuing straight/left ahead, heading back down the other side of the hill.  Don't go back downhill!  (That trail takes you down to the other parking lot.)
Turn right here to continue following the Red Dot Trail, not its evil impostor.
4. You'll find faded paint blazes and nice, new metal blazes tacked to the trees in the next section.
Not to belabor the point, but when you see a fork in the trail, look for the blazes to help you choose the correct path.
Otherwise, happy climbing!
Your next landmark is the righteous viewpoint looking out over the Delaware River and Arrow Island, which occurs about a half-mile into the hike, after you've climbed about 400 feet.  See you there!
5. As you approach the overlook, you can tell you're about to get a nice view.
And you're right!  What's wrong with this spot?  Nothing.  Nothing at all.
Nice place to grab a quick selfie (or an usie?), if you're into that kind of thing.
When you're done checking out the view, onward and upward!
6. Careful not to get bucked off the trail! (When you see a pile of sticks stacked across a potential route, that's a great indication that you're NOT supposed to go that way.)
The blazes won't steer you wrong — keep on the lookout for the two blazes that represent a turn or curve in the trail.
About five minutes after the overlook, check out another nice view of Mt. Minsi through the trees.
From that viewpoint, enjoy the next meandering .4 miles, during which you'll climb 220 feet.  This will be your last taste of meandering for a while.  See you at the steep stuff!  (You'll know it when you see it.)
7. At just under one mile from the start of the hike, you'll arrive at a very steep, rocky section, marked with an ominous red arrow pointing straight up. That's the direction you're headed!  No more Mr. Nice Mountain.
So far, over the first mile, you've climbed about 600 vertical feet, and you'll climb about the same amount over the next .4 miles.  Don't let that math bother you, though!  You seem like the kind of person who eats 600 vertical feet for breakfast.  Up you go!
This is what we came here for, right?  Right?
As you're huffing and puffing up the hill, take a moment to appreciate the fine trailwork that makes this hike possible.  Some of the rocks are arranged into rough staircases, preserving the natural feel, but also making it much easier (and safer) going than it otherwise would be.
Thanks for all your backbreaking manual labor, trail-building people!  How about we all pick up a piece of other people's litter along the way to show our gratitude?  (Or maybe we should wait to have this conversation until we catch our breath?)
The trail remains rocky and steep until just before the summit, where it finally begins to chill out a little bit.
8. At about .6 miles beyond that ominous red arrow that marked the start of the steep stuff, you'll arrive at the rocky clearing at the summit of Mt. Tammany.  (And in case you missed it, please see the Note on what exactly constitutes the "summit" of Mt. Tammany in the background section above.)
Hooray!  Sort of.  You can't see much of anything from here.  But have no fear!  All the calories you've burned to get here will pay off in just a moment.
Walk toward the area where the view should be. From there, you can pick your way carefully downhill, keeping Mt. Minsi in front of you.
You'll see rocky paths where you can tread without stomping any innocent-bystander flora.  (While you're at it, don't stomp any fauna, either.)
You only have to go about 100 yards, giving back maybe 50 vertical feet.  And then, Duuuuuuuuuude.  Dude!  Duuuude.
The Delaware River flows down in the valley beneath your feet, while Mt. Minsi rises above the far shore.
If you ditched your dad back at the summit, don't forget to text him like so: "Get down here, Dude!"
That's better.
You'll probably have to share this spot with other people, which seems about right.  This is a view that deserves to draw a crowd.
I noticed a large white X painted on the rock right where we stopped, and that seemed to be about the optimal place to take in the view.
In any event, once you've properly marinated your eyeballs in the view, retrace your steps back to the summit.
Wait, one last look!
Okay, really, back to the summit now.  Good-bye, view!
(Don't worry, there's another view coming up soon.)
10. From the summit, turn right (assuming you have your back to Mt. Minsi) to continue following the Red Dot Trail to new and uncharted territory.

11. In about 500 feet, arrive at your next viewpoint. Hooray!  We're getting spoiled up here.
This view doesn't offer the same unobstructed look at Mt. Minsi, but it makes up for it by giving you a much better look upstream along the Delaware River.
What a nice spot.  Stop and drink it in for a bit.  What's the rush?
12. Right at the view, you'll notice the three blazes marking the end of the Red Dot Trail. Good-bye, Red Dot Trail!  Thanks for all the good times!  And the views!  And the rocks!
Where one trail ends, another begins.  Hello, Pahaquarry Trail!  Do you mind if we call you Blue Trail instead?  Excellent!  I knew we'd get along.
At the sign marking the start of the Pahaquarry Trail (heretofore referred to as the "Blue Trail"), start following those blue blazes!
13. For the next .3 miles, you'll gently climb along the Blue Trail, enjoying more views off to your right (and your final long views of the day).
While it has lots of competition, this has to be one of the nicest stretches of trail on this hike.
"Wait, weren't we just at the summit?  How are we still going uphill?" you might be wondering.  Great question!  Hey, I just write trail guides, I don't design the mountains.
14. Less than fifteen minutes from the start of the Blue Trail, you'll arrive at a well-marked junction with Mt. Tammany Fire Road.
Take the left fork to stick with the Blue Trail.
15. Who ordered some more rocks? Coming right up!
Step carefully as you make your way down the rocky hill.
The next point of interest is the Green Trail junction, 1.4 miles from the junction with the fire road that you just passed.  You'll descend almost 1,100 feet on the way there.
Gotta give that altitude back somehow!  Also, you'd better stop reading this guide and start paying attention to all those rocks at your feet.  See you at the next junction!
16. When you see the Green Trail joining you from the right, stay left to remain on the Blue Trail, which shortly becomes blazed with both Green and Blue markers.
(This junction is also marked with another nice sign for the Pahaquarry Trail, which you can appreciate and then ignore, since it's a rerun.)
17. In just a minute, the Green/Blue Trail descends to a picturesque wooden bench. Not a bad place to take a load off.
From here, you can take a gander at the pleasant little waterfall just down the hill.
What a great little spot.
When you're done giving your figurative doggies (and/or literal doggies, if you brought dogs with you) a rest, continue following those blue and green blazes downhill.
18. Just below the falls, the trail crosses the stream.
You can pause here to enjoy the babbling of the stream or a quick game of Poohsticks, then continue downstream to keep following the trail.
19. For the next .3 miles, you'll amble beside the creek, enjoying the scenery through this wooded gorge. (And ignoring a few unmarked trails that venture closer to the water's edge.)
In less than ten minutes, you'll arrive at the well-marked terminus of both the Blue and Green trails.  Thanks for all the rocks, Blue Trail!  Goodbye, Green Trail – we didn't hang out for long, but it was nice getting to know you anyway!
There's plenty of signage at this intersection, if you look back the way you just came.
When the white-blazed Appalachian Trail merges in from the right, stay straight/left to continue on your way.
20. From the start of the Appalachian Trail, it's about .7 miles back to your car. Until then, more creekside ambling?  Don't mind if we do.
You'll also see some rules posted for the folks heading the other way on the Appalachian Trail.  Good thing you've been following these rules all along!
About .4 miles (took us 10 minutes) from the junction where you hopped on the Appalachian Trail, you'll come to a junction where you can juuuust see a bridge on the left fork, which is the way you want to go, still following those white blazes.  This junction is also marked with a carry in/carry out sign (extra credit for carrying out other people's litter!).
Take the left fork to hop across the bridge, which crosses a small stream.
21. Didn't you miss all this road noise? Keep following the white blazes toward the parking lot, and the zillions of motor vehicles racing by on I-80.
Shortly after the bridge, you'll come to another fork.  You can take the left fork here (on the short, unmarked trail) to arrive back in the lower parking lot (which may or may not be where you parked).
Dude, they have porto-potties in this parking lot?!  Why didn't anybody tell us?  These guys are living it up down here.
There's also plenty of signage here, if you'd like to learn anything before you leave.
You can also check out the kiosk and its posted information.
Oooh, look, trail maps!
Psych!  It's just an empty coconut water container.  (Also, I expect better from you, coconut-water-drinking people.)
Oh well.  Good thing we already did the hike!
22. If you parked in the upper lot, you might notice that your car is not here, in the lower lot. To get back to the upper lot, walk toward I-80, along the left side of the parking lot (assuming you're facing the interstate).
Just before you reach the highway, you'll see some steps on your left.  Go up them!
Just before the steps, you'll see a sign for the Mt. Tammany Trail, along with a reminder to treat snakes with distance and respect.  Don't have to tell us twice!
23. Follow your good friends, the white blazes with red dots in the middle, back into the woods.
In just a moment, you'll arrive at an unmarked junction.  If you went left (following the blazes), that would take you back up the mountain.  If you're up for climbing Mt. Tammany again, have at it, wild person!  The rest of us will choose to go right, back to the upper parking lot.
Follow the steps back down to the familiar picnic tables (remember them from about 4 miles and 7 million rocks ago?).
Welcome back to your car!  It missed you.  Now see if you can get it to take you to some pizza!  Or maybe a foot massage?  You've earned both!  (Also, if appropriate, give a nice, sweaty high-five and/or hug — or both! — to your hiking companion(s).  Let's do it again soon, shall we?)
Directions to the trailhead:  From the Hudson Valley, take your favorite route to I-80 along the PA/NJ border (you could go south via I-87 or take I-84 to some smaller roads to then cut south, but your favorite GPS app will give you better advice than I could).
The exit for the parking area(s) can only be accessed from the westbound lanes of I-80.  Take the westbound exit for DUNNFIELD CREEK APPALACHIAN TRAIL and take your first right turn off of that exit to arrive in the upper parking lot.
Here's a Google Street View image of the exit:
If you are headed eastbound on I-80, you'll go past this exit perhaps one mile, then turn around at a truck weigh station exit.  This seems scary at first, since it looks like you're going to be forced through the weigh station, but there's an easy left turn before the weigh station that lets you go under I-80, then pop back out onto I-80 westbound.  (My GPS navigation took me exactly this way without a problem.)
Here's a Google Street View image of the weigh station pulloff:
Sorta nearby address for your GPS: Just plopping "Mt. Tammany Red Dot Trail" into Google Maps will take you to the right place.  Sweet!
If you arrive in the upper parking lot to find the lot full: You can drive down to the lower parking lot to try your luck there.  IF you start the hike from the lower parking lot (which has porto-potties that the upper one does NOT have), to get back on track with the trail guide above, start at Step 22 to pick up the Red Dot Trail.  Follow the Red Dot Trail to the top of the hill just above the parking lots, where the trails from the two parking lots (both marked with the same Red Dots) will merge into a single trail.  When you arrive at a fork with two Red Dot Trails in front of you, take the left turn into the woods (right would bring you back downhill to the upper parking lot), and you'll join the trail guide at Step 4.  Now you're all set!  And you already knocked out the last few steps of the trail guide, too — look at you go!
If you arrive in the lower parking lot to find BOTH lots full: Dude!  You must be here on a weekend.  Get up earlier next time!  (Sorry, I know that's not helpful, but since we're friends now, I have to give you a hard time.)  And also, there is apparently more parking at the nearby visitor's center, though I have never been there and can't offer any first-hand advice on this point.  See the njhiking.com trail guide for Mt. Tammany for directions to the visitor's center and information about a hiker shuttle that runs from there.  That's helpful, right?  Good luck finding a spot!
Wherever you end up parking, stop the car, hop out, and let the adventure begin!
GPS coordinates of upper parking area: 40.97187, -75.12338 (Clicking will open in Google Maps or the Apple Maps app, depending on your browser/device.)
east stroudsburg weekly forecast

Super-cool Google Earth flyover of hike route:

Google Terrain Map of hike route:

Related resources: If you're looking for actual facts and/or useful information, visit these resources:
Want to support trails in the Hudson Valley? Here's one great way: Visit the New York-New Jersey Trail Conference homepage and click on Volunteer, Donate, or Shop! (Then you can volunteer, donate, or shop, depending on your mood.)